No pet owners enjoy having to leave their feline friend(s) at home, especially for long periods of time. They may wonder if they left them enough food and water, among other things. Everyone wants to be a good cat owner. With an automatic cat food dispenser, you can take some worry out of the equation.
Automated feeding not only helps keep your cat fed, but it can also ensure they stick to an eating schedule that's beneficial to their long-term health. The best cat food dispensers come in all kinds of shapes and sizes. Some are simple and easy to use while others offer complex features and various technologies.
If you're in the market for the best cat food dispenser, read on. We'll discuss the many benefits of automated feeding and give you our recommendations on the best dispenser for you.
The Best Automatic Cat Food Dispensers in 2021
Unsure of which feeder to spring for? We recommend a few worth checking out.
The simplest and most affordable gravity-based feeder available, the Cafe Feeder can provide on-demand service for your pet while you're away from home. It can be used inside or outside, featuring an extra-wide mouth and removable lid for easy refilling.
The Pet Cafe Feeder is environmentally safe and comes in a variety of colors to best match the decor of individual homes. While it doesn't monitor portion control, if you need a cheap and efficient fix for a weekend away, this one is hard to beat. Automatic pet food dispensers can be perfect for cat owners when you have to leave town for a night or two.
A highly recommended model with a few more features in this innovative model from Jempet. It has a highly customizable feeding schedule with individual compartments that hold up to 24ml of dry food. Thanks to the five compartments, you can set the feeder up for a whole work week and not worry. This is one of our favorite automatic food dispenser for cats.
Another fun feature of the Jempet is its voice recording function. You can record up to 10 seconds that will be played back to your feline at every feeding time. This means you can verbally call your cat to dinner even when you're not physically home.
There's not a better, more durable automatic feeder on the market than this particular PetSafe model. This feeder is one of the most customizable on the market, with the option to program up to 12 meals a day with ranging portion sizes. The storage reservoir holds up to five cups of food, meaning long stretches without having to refill it.
It also features an easy to read and navigate LCD screen for programming, and the flexibility to run on D batteries or on AC power. This makes it easy to place anywhere in your home. This is a close second when it comes to the best automatic cat food dispenser.
If you're on the market for something with all of the bells and whistles, you should take a look at this impressive model from Feed and Go Smart Pet Feeder. Not many feeders accommodate wet food as well as the Feed and Go, and that's just the beginning of its many advantages.
The Feed and Go features Wi-Fi connectivity and has a built-in webcam and phone application.
This means you can fill the containers and then set up and execute a schedule completely from your phone, with up to six meals a day. The webcam in this automatic cat food dispenser also allows you to check in your cat and his eating progress from anywhere, anytime. This can mean a lot to the pet owner on the go or out of town, taking the 'what if?' mentality off your mind. This is a great timed cat food dispenser for anyone looking to spoil their little kitty!
Why Get an Automatic Cat Food Dispenser?
If you've been struggling with feeding your cat on a proper schedule, then an automatic cat feeder could be just what you need. Many cat owners utilize what is known as free feeding. This involves filling up a bowl with food and letting a cat work through it at its own pace. Owners do this because it's more convenient for them.
Scheduled feeding, however, is healthier for your cat and allows you to better control and monitor their diet. It can help prevent cat obesity and create a routine while offering helpful training for cats who sometimes refuse to eat.
Keeping to a strict schedule can be difficult. There are plenty of things that come up in our lives that may keep us from getting home to feed our pets. Going to work early or staying up late, social plans, sports games, so forth – it can be hard to escape the unexpected aspects of life that pop up.
Leaving on a vacation, even for the weekend, can cause problems. Finding someone to feed your cat can be a nightmare. A timed cat food dispenser gives you the best of both worlds: a measured diet for your pet with the flexibility to be away if you need that. Many automatic cat feeders allow some level of personalization for your cat, their diet, and their schedule. It could make both your life and your cat's life a lot easier.
Varieties of Automatic Cat Feeders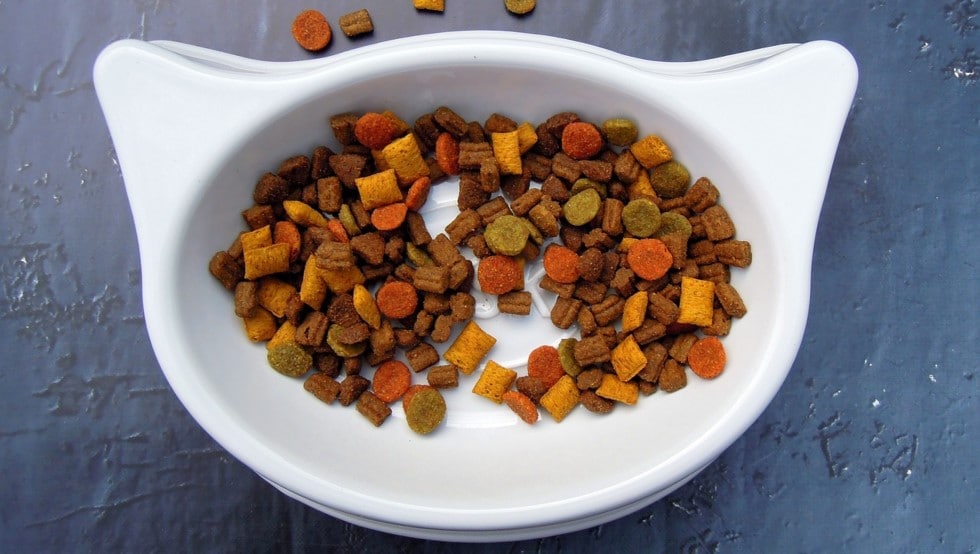 The amount of cat feeders available to the average consumer is considerable. In fact, you may begin to feel overwhelmed in trying to figure out what would be best for your situation. There are gravity feeders that are cheaper to purchase but don't modify or ensure any sort of portion control. These models rely strictly on gravity to continue to fill up a food bowl as it empties. No battery or electricity is required.
Some cat feeders are automated and allow you to specifically pre-set portion sizes and feeding times. Others are even app-based, allowing you to disseminate food from your phone on the go. The variety of bells and whistles on these devices depends on your budget and personal preference. All are guaranteed to make your cat's life better. We'll go through some of our favorites below.