If you've just adopted a new kitten or already have a cat, you'll need a pet carrier to take her to the vet's office. These accessories come in all shapes and sizes, so choosing the best cat carrier won't be easy. Luckily, we're here to help. Not only will we tell about the different options available, but we'll also show our picks for the best cat carrier to help you get an idea of what your cat will need. Let's get into it!
What Do I Need to Know About Cat Carriers?
In this article, we will first show you all of our favorite cat carriers and give you quick reviews with some of the basic features highlighted for you as well.
Before making your final decision, or if you want to be able to explore other options on your own, read through our buyer's guide. It features types of cat carriers and gives you tips on how to pick the right one for you and your cat.
5 Best Cat Carriers in 2021
Ready to go shopping? For inspiration, check out our favorite cat carriers.
1. Petmate Two-Door Top-Load Kennel
We recommend this plastic carrier for anyone with a cat or small to medium-sized dog. The two-door design allows for your cat to walk on in through the front door and you to pick your cat up from the top door. It is also safer to load your more unwilling cat tail first, rather than head first, and you'll find it's easier through the larger top opening. The hard plastic makes it durable, and you won't have to worry about your cat escaping.
2. Petmate Sky Kennel
Best Airline Approved Cat Carrier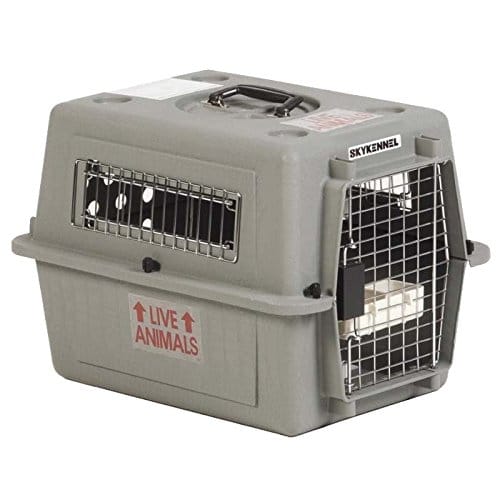 If you're a frequent flier and you like to take your pets along for the ride, consider this carrier! All airlines have a set of requirements that they expect a pet carrier to follow. Petmate's Sky Kennel does its best to meet those requirements with what we consider to be the best airline-approved cat carrier.
It features a single-piece metal door, protruding sides as a rim, ventilation holes on all four sides, attachable food dishes, and stickers.
3. Pet Peppy's Expandable Airline Carrier
Best Soft Sided Cat Carrier & Best Cat Carrier for Car Travel
Here is another excellent model for traveling, this time we've awarded it the best cat carrier for car travel. While the Pet Peppy carrier is a soft-sided cat carrier, it boasts expandable sides, allowing your cat more room to lounge. It also has an expandable tunnel to make it fun during playtime.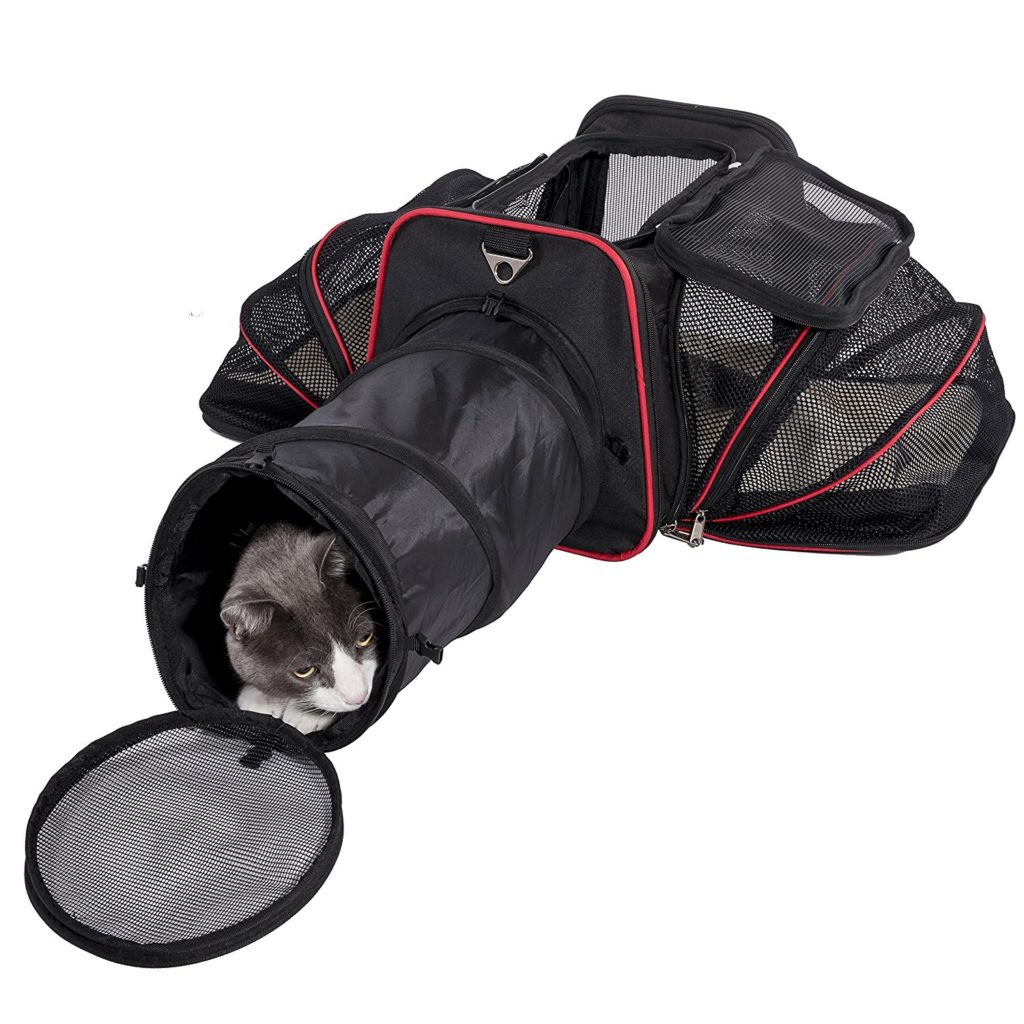 Extra features include the ability to strap safely onto the handle of your rolling suitcase, a machine-washable mat, and storage for treats and toys. It also is easy to strap to a seat belt, making it a safer option for your cat. All of these reasons are why it's also earned our marks as the best soft-sided cat carrier, as well.
4. Pet Magasin's Collapsible Hard Cover Carrier
Here's a great carrier for those of you who don't travel with your cat often. Pet Magasin's carrier has a unique collapsible function that allows for easy storage. It's almost like a hybrid between a traditional hard-sided cat carrier, and a soft-sided cat carrier.
The main body is made of fabric and has plenty of holes for ventilation. The top and bottom of the carrier are made of hard plastic, making it perfect for quick trips to the vet.
5. VIVO Foldable Pet Stroller/Carrier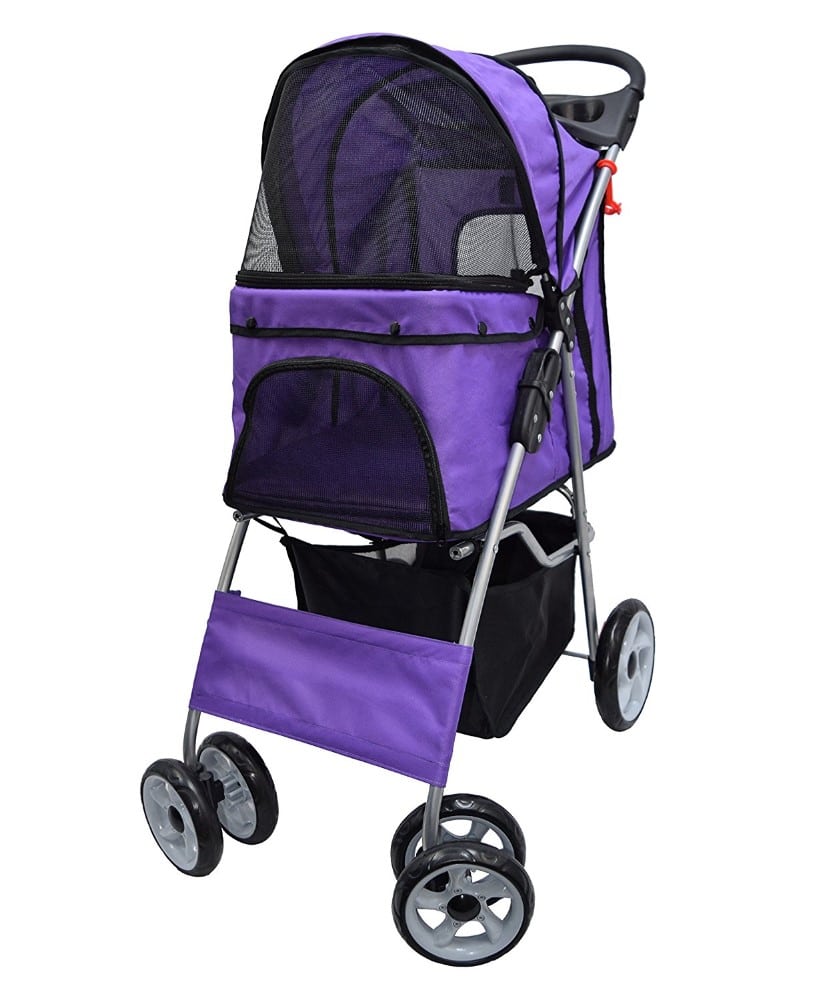 This stroller is our last recommendation for pet parents.
While it can't go on any flights, it's perfect for cats that like to go outside but can't be trusted to walk on their own. It's also ideal for those that dash off after the first bird they see. You can safely stroll down the sidewalk knowing that your bundle of fur is safe. There's also a compartment for storage just beneath the carrier portion of the stroller.
Types of Cat Carriers
There are many different types of cat carriers that you can use to get your feline friend from point A to point B. However, not all of them are created equal. If you saw our suggestions above, you'll notice that we tried to find ones with different features to fit different needs.
Here we have a list of the different types of cat carriers, to help you further determine which one you need.
Homemade Carriers
"Homemade cat carriers" are by no means the best cat carrier you can get. In fact, they're possibly the worst choice. By homemade, we mean that you've taken an item from your home like a plastic storage bin or laundry basket, and you've stuck your cat inside.
These are unsafe for your cat to travel in. The worst of these homemade carriers can even cause injury or suffocation due to having almost no ventilation at all and being unstable.
Homemade carriers may work in a pinch, but should always be your last resort.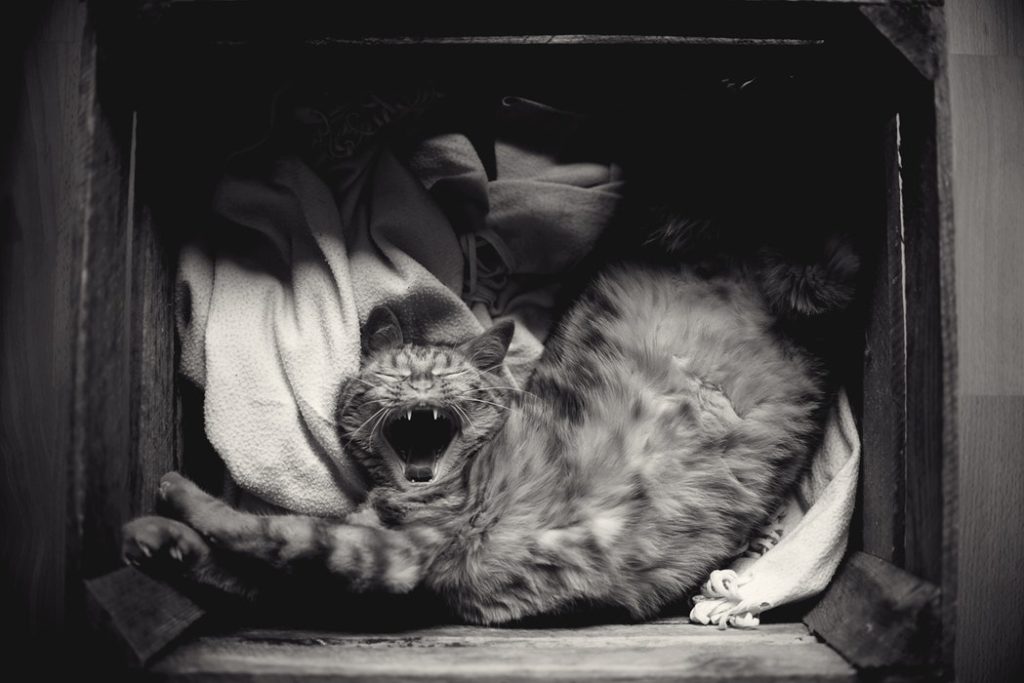 Cardboard Carriers
By cardboard carriers, we don't mean a literal cardboard box that you might expect your mail to come inside of. These are those nice little boxes that you might get at an adoption center.
While not the best cat carrier, they typically come with pre-made holes in the sides for ventilation. These models are made from sturdier cardboard that can support a cat's weight.
However, cardboard models are not meant to be your cat's full-time carrier. They're just a temporary option. The cardboard won't be able to stand up to wear and tear over time. Your cat will claw up the sides, make holes, and the cardboard will get soggy from any accidents.
Soft Sided Cat Carrier
A soft-sided cat carrier is an option you can use on a more permanent basis. They are frequently the best cat carriers for car travel as they are less bulky and will allow more room for other passengers and items. The best soft cat carriers will also have a way of being strapped down in the car to make it less stressful of a journey for driver and cat.
These models are often made of nylon or similar materials, so they can stand up to more wear and tear over the years. Of course, they'll last the longest with cats that are calm and relaxed in behavior and aren't good for cats who get anxious and rowdy in their carriers as they could potentially injure themselves.
The downside is that they're susceptible to your cat's claws. Just like with your fabric couch, your pet can tear a hole in the side of the fabric carrier. The more frenzied your cat is during travel, the shorter the lifespan of your fabric carrier.
Plastic Carriers
Out of all the models you can buy, the best cat carrier is a plastic carrier. These are built to withstand harder and more frequent use. If your pet is a terrible traveler, invest in a model that will withstand your kitty's claws. This way, you won't have to worry about a Houdini cat.
Plastic carriers are also the easiest to clean if your cat makes a mess on the inside. Also, if anything heavy ever falls on it, your pet will be well protected. This makes it one of the safest carriers to use.
One of the only downsides to a plastic carrier is that it's hard to store away. You likely won't be able to fit one of these under an airline seat if you plan on flying anywhere.
Cat Carrier Strollers
While this is a relatively new sort of cat carrier, we have to say that we are a fan. This is a great option for anyone who's cat is a full-time indoor cat but craves the outdoor. If you haven't tried leash training, adult cats typically won't cooperate.
Cat Carrier Strollers provide a unique alternative option and will help you both to get some fresh air in a safe way.
How to Choose the Best Cat Carrier
Cats and dogs alike need a carrier for transportation. Choosing the best one for your furry friend depends comes down to your preferences. Everything will depend on how often you travel with your cat as well as on her personality.
If you're someone who travels or moves often, and you like to bring your animals with you, invest in a quality cat carrier that's either fabric or plastic. Your pet's personality and temperament during travel will help you figure out if you should choose one type over the other.
As we mentioned earlier, if your cat hates traveling and likes to claw at her carrier, then look for a plastic model.
But what if you don't travel often?
In this case, you may only need a cat carrier when you go on vacation or need to take your cat to a vet. No matter your cat's personality, you can opt for either a fabric or plastic model.
One last thing to consider when looking for the best cat carrier is that most cats like enclosed spaces. Make sure the carrier is big enough for your pet to stand up in and turn around freely, but don't get one that's three times the size of your cat. Larger carriers are clunky, and your cat will prefer feeling cozy over sliding around everywhere.