Your dog doesn't have to go to the dentist every two months like you do, but there are things you can do to make sure your pet has strong and healthy teeth. The best dental chews for dogs are a great alternative to brushing your dog's teeth by hand.
The American Veterinary Medical Association says that 80% of dogs exhibit signs of oral disease and decay by the time they are only three years old. So how do you help protect their teeth?
Dental chews are one of the easiest options, and your dog won't even know the difference between that and a treat. Dental chews can help your dog build strong teeth.
Product Guide: Top 7 Dental Chews for Dogs
What are the best dental chews for dogs? Read this guide to find out.
Milk-Bone is a popular dog treat manufacturer, and dogs love their dental chews too.
These treats are chicken-flavored, so your dog should have no problem eating them. They are also healthy for your dog; the ingredients are rice based and contain no soy or soy products. There are also sixteen vitamins and minerals to keep your dog healthy wrapped up in these treats.
Each treat only contains about 63 calories, so you won't have to worry about your dog gaining weight from giving him these.
While they also taste delicious, they work to break down the plaque and tartar buildup that is living your dog's teeth. The twist design that the bones are made to help get the food all over their teeth and destroy the plaque and enamel in even the hardest places to reach.
These should help get rid of our dog's bad breath as well because it gets rid of the plaque on their teeth, but some users say that it didn't really help. But they still clean your dog's teeth which is the important part.
Milk-Bone dental chews for dogs are also relatively cheap.
These treats are also given the Veterinary Oral Health Council (VOHC) seal of approval, meaning that these are recommended by even the experts.
The Pedigree Dentastix also have a unique style and design to them to help clean your dog's teeth. Instead of twists, these are more of an X shape to also help with the plaque and tartar buildup.
Unlike Milk-Bone, these come in all kinds of different flavors, like chicken, beef, bacon, or their original flavor. With these options, you should be able to find one that your dog likes. The texture of the bone is actually fairly chewy and not hard.
These best dental sticks for dogs are available in two different sizes, mini and large. However, they can't be given to dogs that are under thirty pounds.
These aren't gluten free, but they have other great, healthy ingredients in them. These are also made with a rice-based recipe with no soy or soy products contained in them.
Just like most other dental chews, this stick helps with the tartar and plaque build up. Because you probably don't brush your dog's teeth every day, all of that junk can build up on their teeth. But these are a healthy and tasty way to help with that.
Greenies Original Dental Dog Treats are full of vitamins to keep your dog healthy, and they are also low-fat, so you don't have to worry about your dog gaining weight. However, they do contain gluten.
Unlike the Pedigree treats, you can get them for small dogs too and come in five different sizes:
Teenie
Petite
Regular
Large
Jumbo
The Greenies Dental Chews are also said that they help bad breath, so if the Milk-Bones don't work, you may want to give Greenies a shot.
These particular treats are a little bit more expensive than the last two that we looked at. Depending on what size you get and how many ounces the package is, the cost can run a bit pricey. Many consumers say that they are okay with paying that high of a price though because the product lives up to it.
Virbac C.E.T. VeggieDent Dental Chews have a corn, rice, and soy based recipe that aims to keep your dog's teeth clean. They are some of the best natural dog dental chews. Virbac makes their dental chews with beef hide which your dog may love the taste of. They may also help your dog's breath smell better as well.
Virbac CET chews also have different, natural flavors to them. They are made in the shape of a Z so that your dog can hold and eat it easily.
A normal package contains about thirty treats for your pet and cost about $15. However, these are pretty big treats, so if your pet is smaller, you can probably get away with breaking the treat in half and only giving that to your dog at a time.
One thing to be cautious of is that the company labels the treats as only to be used for veterinarians. This is a perfect time to bring up that before you give your dog anything, you should check with your veterinarian first.
Blue Buffalo Dental Chews are one of the best dental chews for dogs. They take the place of the chore of having to brush your dog's teeth all of the time, which is a convenient option.
Because of the meaty smell and taste of the treats, many pet owners say that these are the only ones that they can get their picky pet to eat. If your puppy is teething, Blue Buffalo dental chews also help treat their sore gums and can help alleviate some of their pain.
The dental chews are available in different sizes, but dogs tend to eat them quickly, so you may end up having to buy more.
These dental chews are made with all-natural ingredients which some pet parents love. Blue Buffalo dental chew products don't have any corn, wheat, poultry byproducts, or soybeans in their treats. If your dog is intolerant to any of those, this is the chew for them.
The Blue Buffalo dental chews are multi-functional and contain chondroitin and glucosamine which can help improve your pet's joint. DHA is also found in these and is known to help improve cognitive development. Taurine can also make sure that their heart is healthy.
Zuke's Z-Bones help keep your dog's gums healthy while also cleaning their teeth and keeping their breath fresh. However, this is one brand that doesn't mention anything about removing tartar and plaque from their teeth.
If you need something a little more heavy duty, you should probably try one of the other brands. But this one does have its benefits.
There are different flavors and sizes in these as well, so you should be able to find the right match for your pet. Their flavors are a little bit different.
Some of the flavors they offer are:
Vegetables
Berries
Carrot
Apples
Zuke's best dental bones for dogs can run a little bit more expensive. Before you buy, you should know that your dog should be at least 10 pounds to chow these bones.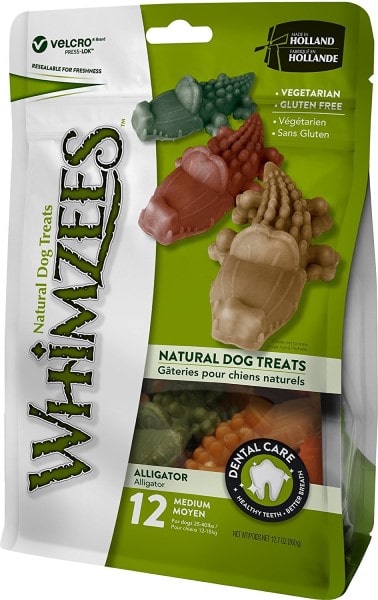 Paragon Whimzees dental treats are actually shaped like alligators, and they do all the cleaning of your dog's teeth for you.
The treats are made with vegetables and have no chemicals added to them. For the dogs on a diet, these are also low in fat and high in fiber. They are also gluten-free and vegetarian.
This brand says that their treats will help to freshen your dog's breath and also fight plaque and reduce tartar. Paragon Whimzees' dental chews are available in a wide range of sizes, and they aren't too expensive.
They also come in other fun shapes like hedgehogs, toothbrushes, classic bone shape, and stix.
Further Research on the Best Dental Chews for Dogs
Picking out the best dental chews for dogs can be a difficult process when there are so many out there, and you may not be sure what your pet likes.
When in doubt, just get a small bag to see if your pet likes the taste. Make sure that the treats you choose are within their diet restrictions (if they have any).
If you're still unsure, go to a website like Amazon and read some of the reviews that people have posted. Many of these treats are available on big pet retailers' websites too, so there are plenty of reviews to choose from.
Once you find the right treat though, your dog will thank you. If you have more pet-related questions, feel free to contact us here.
Related Reading