Are you looking for the best dog food for Pitbulls? Anyone who has owned a Pitbull before knows that they are more than pets, they become part of the family. They are there for every special occasion, every mundane weeknight, and they love you without condition.
There are many different breeds out there, but there is one that while friendly and loving is often misunderstood, and that is the pitbull. If you own one, you already know how active and loving they can be. So let's look at the best food for Pitbulls and see how we can keep these gentle giants fed.
Up first, we're going to take a look at some of the issues Pitbulls can have that make finding food for them a bit more complicated.
Food Allergies
Before feeding your dog anything, you need to make sure that they have no food allergies to any of the ingredients that are in the food. Most dogs are healthy, but some are born with food allergies that can cause things such as itchy skin, bloating, and a plethora of other symptoms that can lead to discomfort and pain.

It's normal for a dog to itch but when they scratch until they bleed its a sure sign that something deeper is troubling them. Most of the time, food allergies are the culprit.
If this occurs, the best dog food for Pitbulls with skin allergies are formulas with limited ingredients. There are plenty of options that can be purchased that are gluten-free and made specifically for dogs with allergies. Your vet will have the best options for you should you find your dog has allergic reactions.
How Much Food Should I Feed My Pitbull?
When looking at creating a feeding schedule for your Pitbull, you need to consider a few things. The first being the age of the dog.
Once a dog is weaned from its mother, and it can begin eating solid foods, you need to make sure that you are feeding it enough to help it grow big and strong. Using food that specially made for puppies is the perfect solution.
These foods are higher in calories and designed to be specific to puppies. It's not just a ploy from the marketing department. There are reasons for the specifications.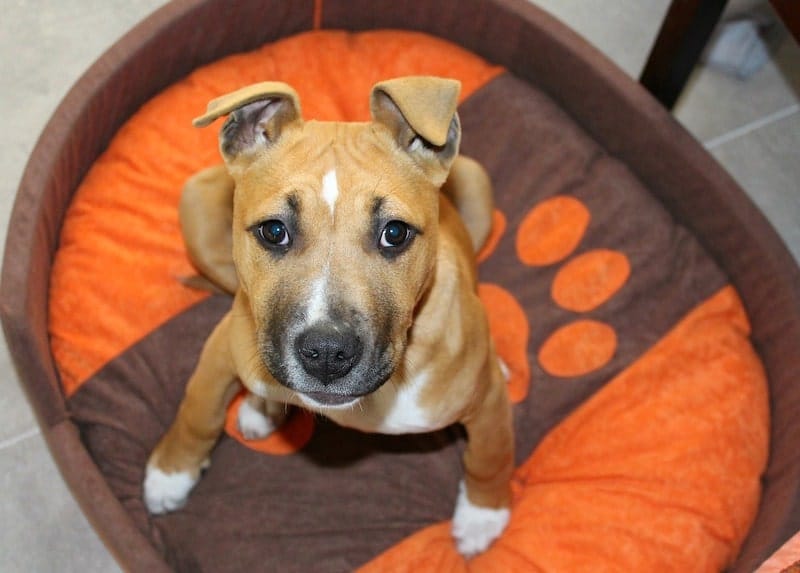 Healthy vs. Overfeeding
Pitbulls, in general, are incredibly muscular dogs with a ton of energy, so they need the fuel to burn to grow. Feeding your dog twice a day is an excellent way to help monitor your dogs' growth.
If you're looking specifically for the best dog food for pitbulls to gain muscle, you'll want to look for a formula with higher protein content. Pitbulls are common rescue pets that unfortunately face a lot of neglect and abuse.
Finding the best dog food for pitbulls to gain weight is common, but they can also get out of shape quickly, too. Monitor their weight and check with their vet to see what sort of range they need to be in before you start their new feeding regimen.
Best Dog Food For Pitbulls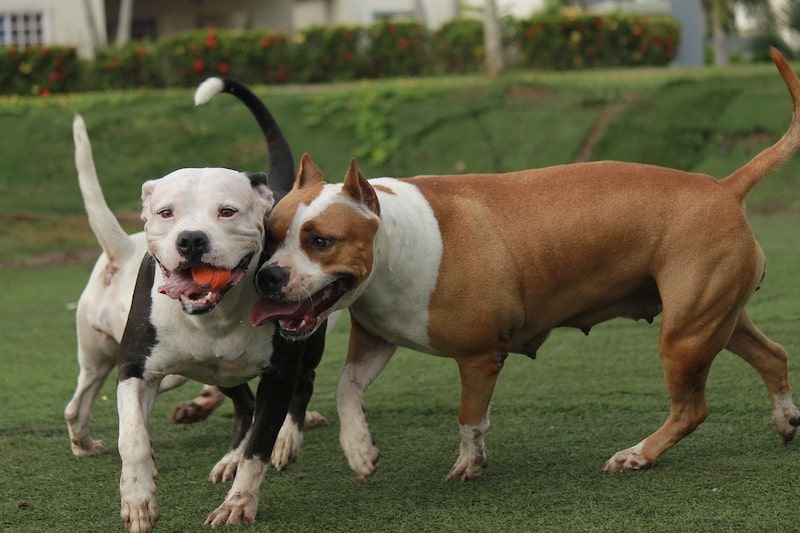 When searching for dog food, there are some that better geared towards your Pitbull than others. Some are specially made for Pitbulls. The recommended macronutrients for Pitbulls is 50% protein, 30%fats, and 20% carbs.
Other things to keep in mind when you're purchasing dog food are if your pet has been spayed or neutered, their physiologic state and the environment in which they live.
Sticking to this will help ensure that your pup gets all of the nutrients that it needs to grow healthy. For those who are curious here are some suggestions that can help guide you when in the pet food aisle.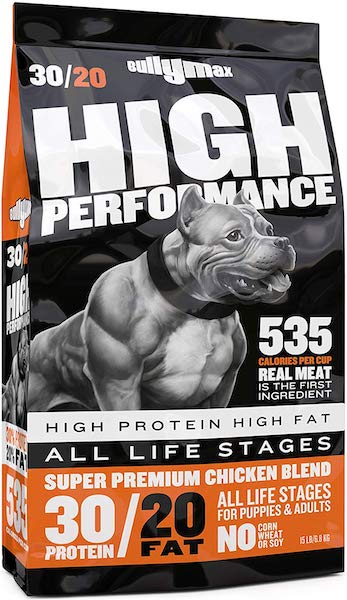 Explicitly designed for Pitbull diets, this food is calorie-dense and designed for the high performing breeds. This brand focuses on its inclusion of meat with a 30 percent protein and 20 percent fat. Customers reviews show that while it's suitable for all breeds, it works specifically as the best food for Pitbulls.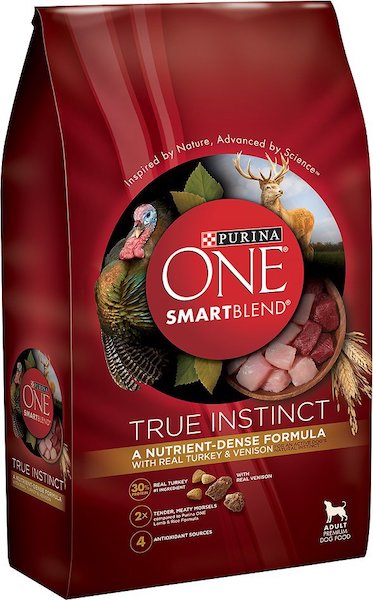 This brand is excellent for those that are budget conscious yet want a healthy well-balanced diet for their pups. They boast being free of any poultry by-products and have 30 percent protein in the mix. As a bonus, some customers are saying that it helped their pup by decreasing gas and bloating.
Although a higher price than most other dog foods, this one may be worth the investment. It claims a higher percentage of meat with a mix of both fish and poultry, with the added benefit of being grain-free.
Best Puppy Food for Pitbulls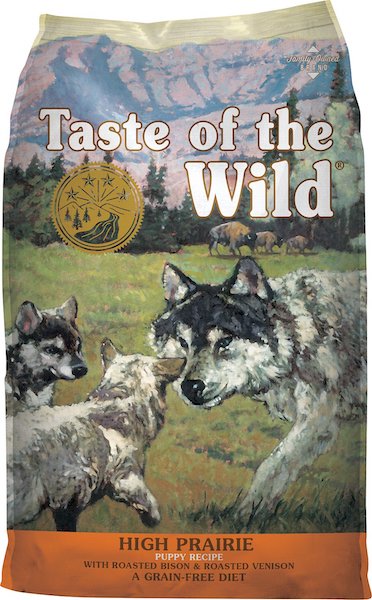 Taste of the Wild: High Prarie Puppy Formula is easily the best puppy food for pitbulls as it contains quality meats such as venison, bison, and beef. These help to keep your pup's energy up all day with the added benefit of fruits and veggies added in to help with their digestive health.
The best dog food for pitbull puppies should always be high in meats and proteins to help them to gain weight.
As your Pitbull ages, some changes happen that require you to adjust their eating habits. Finding a good dog food for pitbulls as they enter their later years means finding foods that are better for joint health. This particular brand of food helps provide your older dog with nutrition to support their joints, weight management, and other issues common in older dogs.
AvoDerm uses lot's of meats and veggies in their formulas, but their key ingredient is Avocados. This adds in some healthy fats that will help them maintain their weight even if their appetite lessens.
If you find that your pitbull has allergies, you will want to stick to a brand that promotes grain-free ingredients. With duck, sweet potatoes, and added probiotics, this blend helps your pup's skin stay hydrated and away from nights of endless scratching.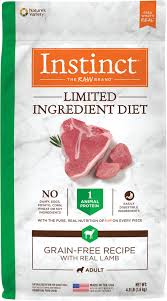 Since grain, dairy, and eggs can cause digestive issues in dogs, you can always choose to limit their diet to only a particular set of ingredients. Nature's Variety helps you decide what is best for your pet and can be delivered right to your door.
Nature's Variety limit their ingredients to only grain-free identifiable meats, vegetables, and fruits. The meats are from grass-fed animals,
What is the Best Dog Food For Pitbulls?
There's no one answer for this question.
Different mixes and ages of Pitbulls may need different things. One way to check how much caloric intake your dog needs is though a simple calculation to determine its Resting Energy Requirement (RER).
The RER is to help determine the number of calories needed to keep your dog healthy while at rest. Its the same as trying to calculate the resting metabolic rate in humans.
The formula for calculating a Pittbulls RER can be found online.
Keeping Your Pitbull Healthy
There are many different schools of thought when it comes to the health of your pet. Some formulas can help you calculate everything from their RER to their daily intake of macros.
It can be stressful trying to find the best dog food for Pitbulls, but the important thing is to make sure your pup eats a healthy balanced diet and gets plenty of exercises. Have questions? Let us know how we can help.