Did you know that 1/3 of all cats and dogs in the United States are given vitamins and supplements in addition to their daily nutrition? Five years ago, the market for supplements for your pet reached over $1 billion. It's gone up since then. The best dog vitamins can help support your pet, but it's important to know what type when to take them, and how they will help. Pet owners want to make sure their pets are receiving the best treatment and are being well taken care of. Let's dive in and discuss the benefits of vitamins for your pooch.
Benefits of the Best Dog Vitamins
What types of vitamins and supplements are people giving to their dogs, and why? Among the most common are supplements for arthritis, probiotics, and multivitamins.
Not all vitamins are good or safe for your dog. The ones that are, however, provide great benefits. They could improve your dog's coat, reduce or prevent shedding, and calm gastrointestinal discomfort.
There are other benefits as well. If you give your dog Vitamin E, it can help repair cell damage to their organs and boost their immune system. Dogs are able to get colds and sick in the winter just like humans do.
What Vitamins Do I Give My Dog?
If you're feeding your dog a diet that you've created at home, supplements or vitamins are necessary to complement the nutrition. Ensuring that your dog is receiving all the best dog vitamins they need can be done by matching them to what they are already eating.
If they are eating FDA-supplied food, it's likely that they won't need additional vitamins or supplements.
However, some dogs might need them based solely on their age. The best senior dog vitamins will support bone and joint health, especially for the teeth and hips.
Things to Consider Before Buying Vitamins
Always check with your vet prior to buying vitamin supplements for dogs. If your dog is experiencing symptoms like an upset stomach, fatigue, lack of appetite, or arthritis, it's important to take them in.
You may think it's one issue when really it's something different. A vet will tell you what the problem is and if they think supplements or vitamins would help in that situation.
Drug Interactions
Another thing to consider is if your pup is already taking another medication for something else.
Giving them herbal supplements without first checking with a vet is dangerous. The supplement you want to give them may have components that have a negative interaction with something they are already taking.
.
The Necessity of Dog Vitamins
Your vet can do an exam and assessment to see if your pet needs additional supplements or vitamins. It's important to think long-term when it comes to the best dog vitamins. You want to find something that is going to support your dog and not harm them over time.
It's hard to prove that vitamins and supplements for your dog are effective as clinical testing has mixed results. Where they have been proven to work is in helping to make coats shinier and healthier. This, paired with reducing inflammation and boosting immune health, is enough reason to look into what's offered.
5 Best Dog Vitamins in 2021
We've talked about the things you need to think about before giving your dog vitamins or supplements. Now, we're going to take a look at the top 5 best dog vitamins available on the market, what they offer, and how they can help.
1. Vitamin E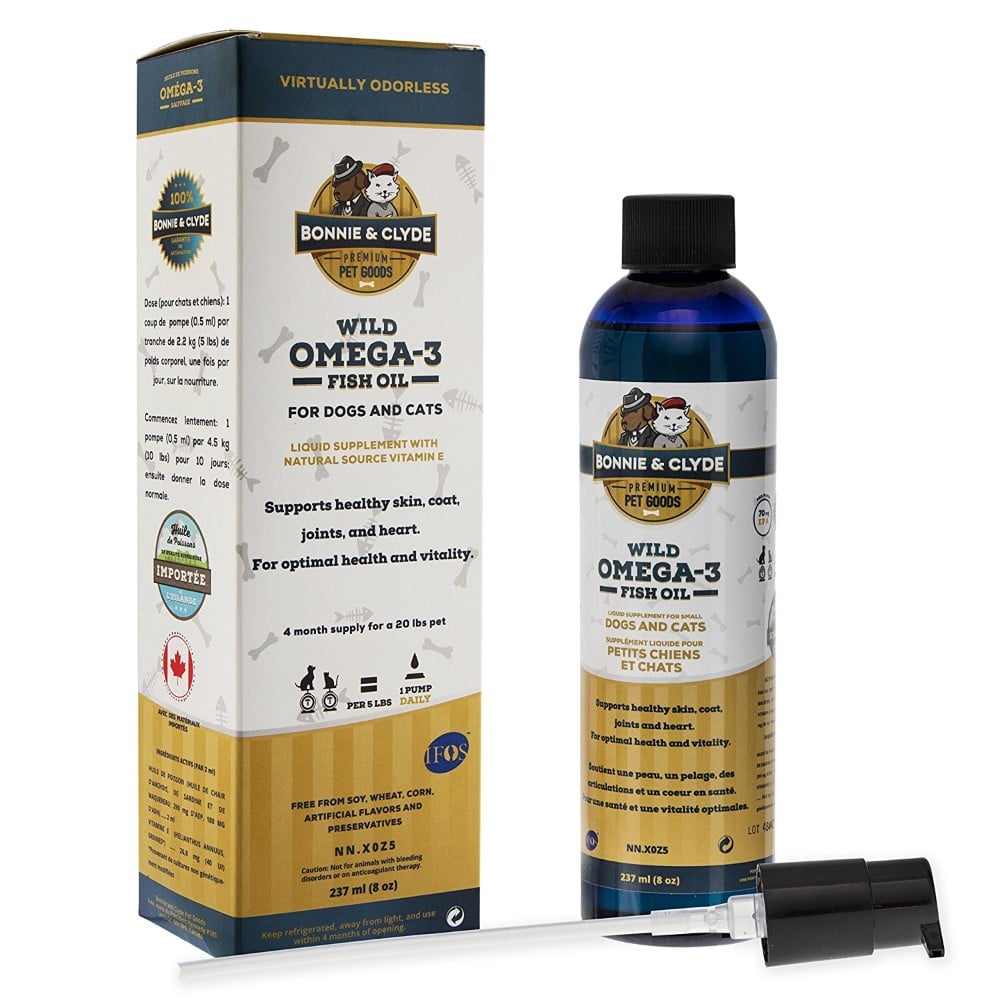 Vitamin E is great for your pet's organs and cells. It helps to prevent damage to the nerves and skeletal muscles. It also promotes good coat and skin health, making it thicker, shinier, and less prone to dandruff.
Vitamin E also is one of the best dog vitamins for immune system health. It can be found in food sources that are high in protein such as spinach, sunflower seeds, or eggs. It also comes in the form of an oil that can be taken orally and rubbed onto the body and the coat.
2. Fish Oil
Fish oil is a great supplement for your dog. Like Vitamin E, it is one of the best vitamins for dogs coat, by hydrating the skin and reducing hot spots.
It also works to improve their immune systems, ease their joints, and give them a healthy heart. It's important to find a fish oil that has Omega 3-6-9 for maximum benefits, like this one here. Most are available in a chewable format disguised by a flavor your dog loves.
3. Multivitamin
There are a bunch of multivitamins out there, so choosing one can be difficult if you're unsure what to look for. The best dog vitamins that have a variety of benefits are multivitamins for skin and coat health, hips and joints, the heart and immune system, and the digestive tract.
Finding a vitamin that has all of these things will help your pup be well rounded in its supplement needs. This particular multivitamin from Zesty Paws is one of the best vitamins for dogs on the market.
4. Glucasomine
If you have a dog prone to hip and joint problems, like hip dysplasia, giving them a supplement for their joints could be beneficial. Hip and Joint supplements can be used for those that are already experiencing hip and joint pain to ease discomfort and reduce inflammation. Glucosamine can also be used as a preventative measure if you have a breed that is likely to develop hip or joint issues.
Glucosamine works to lubricate the joints, reduce pressure, and build cartilage. They can be given as a chewable tablet like a treat, or put into their food.
5. Allergy Relief
If you have a dog that suffers from seasonal allergies, you can do something for them as well. They don't have to walk around miserable if they are allergic to grass or pollen. Allergy relief tablets help to prevent itchy skin or ears, sneezing, and hot spots. Most allergy medications are all-natural, herbal supplements.
Now that you've learned about the best vitamins for dogs, and which ones you can get, it's time to decide if your pup needs them.