Have you recently brought home a dog, cat, or another furry friend? Do you want to make sure your home is accommodating and safe for them? Do you want to keep your belongings safe from them?
A pet gate is one of the best pieces of equipment to purchase that will help you take good care of your pet and contain them with ease. Read on to learn about seven of the best pet gates for indoor and outdoor use. You'll also find some tips that will help you choose the top pet gates for your home.
Top 8 Best Pet Gates
Now, let's get into the best pet gates that you can purchase for your dog (or any other pet). Here are eight of the best options you might want to buy:
1. Richell Convertible Elite 6-Panel Dog & Cat Gate
The Richell Convertible Elite 6-Panel Gate is a great investment that provides you with three unique products in one. You can easily convert it from a free-standing gate to a room divider, and from a room divider to a pen for your pet. With so many options, you'll be able to keep your pet safe and contained.
This convertible gate is made from eco-friendly, sustainable Rubberwood and features a lockable door that allows for stress-free movement from one room to the next. It is a strong, stable option that will stay in place all day. Each panel also locks in at 90 and 180-degree angles with the help of a special cap.
2. Frisco Extra Wide Auto-Close Pet Gate
Frisco's Extra Wide gate allows you to contain your pet and turn any room into a safe space. It's made of highly durable steel and is easy to install in any door frame or hallway with a unique pressure mount system. The gate expands and has extensions available to fit a variety of openings, so you can set it up in almost any part of your home.
When you purchase this gate, you don't have to worry about accidentally forgetting to close it behind you. It closes automatically as long as it's open at less than a 90-degree angle. If you open it past 90 degrees, it also locks in place, which allows you to quickly move in and out of the space if needed without having to open and close the gate each time.
3. Regalo 4-in-1 Play Yard Configurable Gate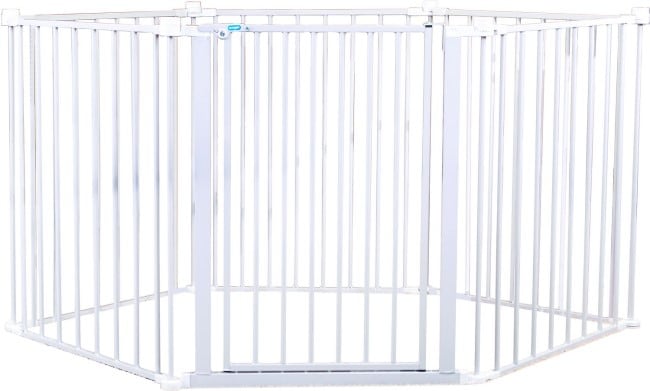 This 4-1 configurable gate from Regalo is a highly versatile option that allows you to give your pet plenty of space to play. You can use it as a pen or convert it into an extra-long (192 inches) gate for when your pet needs extra room to run around and burn off some energy.
Regalo's gate is made of steel and features hinged points, so you're able to shape it to fit you and your pet's specific needs. It also includes a double lock lever and has a unique walk-through design to help you get in and out in no time.
4. Carlson Pet Products Mini Tuffy Expandable Gate with Pet Door
This miniature expandable gate from Carlson Pet Products is the perfect solution for those with smaller pets. It even features a little pet door so your furry friend can get in and out (when they're allowed, of course) without you having to take down or move the entire gate.
The gate is expandable, doesn't require any assembly, and attaches to walls with pressure mounts. You can set it up anywhere in your home effortlessly, making it one of the best pet gates for indoor use.
5. Cardinal Gates Outdoor Dog Gate
For those who are searching for the best pet gates for outdoors, this one from Cardinal Gates is a highly durable, easy-to-install option. It's adjustable and expands to accommodate a wide range of openings. Also, it features a one-handed latch so you can get in and out without having to worry about your pet making a great escape.
This gate is powder-goated so that it's rust-proof and weatherproof. It's perfect for outdoor spaces and comes with all the mounting hardware you need to set it up in your yard.
6. Carlson Pet Products Weatherproof Outdoor Super Wide Dog Gate
6. Carlson Pet Products Outdoor Super Wide Dog Gate
This super-wide gate from Carlson Pet Products is made of steel and is fully weatherproof. It expands to fit openings up to 144 inches and also offers a walk-through door for humans and a smaller door for pet access.
The gate comes with all the hardware you need to set it up. Plus, it easily mounts to walls and banisters. It's chew-proof and knock-proof, too, so it's a safe option for any furry friend.
7. Frisco Extra Tall Auto-Close Pet Gate
If you're on the hunt for the best pet gates for large dogs, this extra tall auto-close gate from Frisco is an excellent option. At 41 inches tall, the gate will help you to keep larger dogs contained and prevent jumping.
As with the other Frisco gate on this list, the extra tall gate also locks in place when opened past 90 degrees. It automatically closes when opened at a smaller angle than this. It's a breeze to set up and features an extension that makes it fit into just about any opening.
This gate features a dual-lock safety release for additional pet security. It's also lightweight, easy to move from room to room, and can be set up in less than 10 minutes!
8. Etna Wooden Heart Shape Design Pet Gate
For those who want a pet gate that is attractive and functional, the Etna Wooden Heart Shape Design gate is a great choice. This lightweight but sturdy white wooden gate features adorable heart designs that work with almost any type of decor, has 3 sections, and is perfect for small pets.
The adorable Etna gate made of durable materials and works well for both indoor and outdoor use. Whether you need to keep a pet out of an off-limits room or block them from accessing your flower garden, this is the gate for you. You can also fold it up for easy storage when it's not needed.
Benefits of Using Pet Gates
There are lots of reasons to utilize pet gates both inside and outside. The following are some of the greatest benefits these pieces of equipment have to offer:
Keep Your Pet Safe
Pet gates help you to ensure your pet doesn't get into anything they're not supposed to. If you don't want to come home from work to find that your dog has been rooting through the trash or pantry, a pet gate will help you secure certain areas.
Protect Your Valuables
In addition to protecting your pet from harm, you can also use a gate to protect your belongings from your pet. If you have a valuable chair that you don't want a cat to scratch, for example, or a nice rug that you don't want your dog to have an accident on, a gate will be your new best friend.
Ease Tensions Between Pets
Bringing home a new pet can be stressful for your current pets. If you want to allow your pets to slowly get used to the new addition, and protect the new addition from harm, a gate will help you to divide up your home and give everyone their own space.
Encourage Independence
Pet gates also encourage independence and can help to minimize separation anxiety. If your pet is used to being separated from you at regular intervals, they'll have an easier time entertaining themselves and will be less likely to get upset when you leave in the future.
What to Know Before Buying a Pet Gate
Okay, you can see why a pet gate is an important investment. What should you think about when buying a gate, though? How do you know which one to purchase?
The following are some of the most important factors to consider when you start shopping:
Pet Size
How big is your pet? If you have a tiny animal, you might not need as tall of a gate as you would if you had a larger pet or one that's prone to jumping.
Navigability
How quickly will you need to get in and out of the room you're gating off for your pet? If you need to get in and out with ease, consider a gate that comes with a door that allows you easy access.
Set-up Requirements
Do you want a gate that has to be screwed into the wall, or do you prefer a pressure-mounted option that won't damage your walls or door frames?
Material
Most gates are made of metal or wood. Wooden gates look nice, but they're more vulnerable to chewing. This makes metal a more durable option.
Indoor/Outdoor Use
Are you going to use your gate only indoors? Only outdoors? Both?
Budget
What can you afford to spend on a gate? Keep in mind that you might benefit from paying more money upfront for a durable gate that will last longer and won't need to be replaced or upgraded as your pet grows.