They're feisty, opinionated and fiercely loyal. No, we're not talking about friends. We're talking about felines. Yet, though you've likely given your kitten plenty of ear rubs, snuggles, and fancy food today, you may have neglected one of her favorite things. So how do we reward them and keep them happy? The best cat treats, of course.
In this article we are going to take a look at all the best cat treats ever, and why they are an important part of your cat's routines.
Up first, we have all of our favorite brands and types of cat treats for you to choose from. But don't forget to check out the rest of our guide which will help you make your final decision.
Top 10 Best Cat Treats: Product Roundup
Up first, let's break down the best treats for your cat in 2021. These offer a ton of flavor while also packing in plenty of nutrition.
Designed to act as standalone treats or mixers to add on top of your cat's daily kibble, these freeze-dried goodies are made from whole food ingredients that are all-natural and grain-free.
When the ingredients are freeze-dried, their nutrients are sealed in along with their flavor, meaning this bag of treats will both store well and taste great.
The Blue Buffalo brand is synonymous with pet health, so you know you can feel good about this bag of tasty and crunchy treats.
These come in a 3-pack available chicken, salmon and trout flavors, you can let your kitty do a taste test until you know which type she prefers! The treats are 100% grain-free.
Perfect for your dog or cat, these little nuggets use only whole-meat protein and are devoid of any meat-meal additives.
Their soft texture means you can give them to your cat whole, or crumble them over her kibble for an unexpected bolt of flavor. They are grain-free, with zero traces of wheat or sugar.
Ideal for both dogs and cats, these little nibbles consist of pure salmon. But, this isn't just any salmon. It's raw and wild-caught Pacific Sockeye, meaning it's the best of the best.
Packed with nutritious Omega 3 EPA and DHA fatty acids, these treats help support your cat's joints and benefit her immune system. They're also great for her skin, coat, and nails.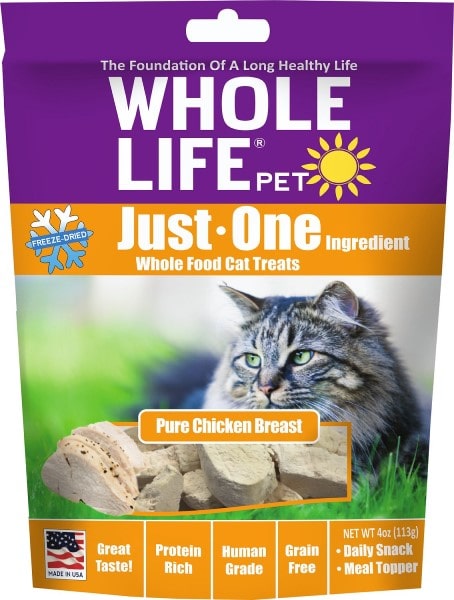 Forget a lengthy ingredients list. These treats are made of only one thing: pure chicken breast. The best natural cat treats will always have few ingredients- how can you beat this?
They're full of great protein while still being low in both fat and calories. The best part? They're sourced, made and tested right in the United States in small batches by a team dedicated to pet health.
These treats require prescription approval, but they're ideal for managing your cat's urinary tract health. If your kitty is currently following a veterinarian-recommended formula using the Royal Canin Veterinary Diet Urinary SO system, these treats are a natural next step.
As your cat navigates a sometimes-restrictive therapeutic diet, it's nice to know that treats are still an option. These are chicken-flavored and help prevent struvite and calcium oxalate crystals from forming in your pet's urinary tract.
Royal Canin treats come in a variety of health support options.
These treats are another single-ingredient option that highlights USDA-approved chicken breast as the star player.
The chicken is simply sliced into pieces, then freeze-dried to preserve flavor and nutrition. Made without fillers or mystery ingredients, you can feel good about giving these whole or crumbling them into food.
Ah, Fancy Feast! This brand has been delivering the food and treats that felines crave since the early 1980s. These natural treats are a great addition to their lineup.
Made with all-natural proteins including chicken, salmon, and tuna, they're shaped into filets before baking so they're the ideal size for your pet. High in protein and available in portable, stay-fresh pouches, these are an on-the-go lifesaver you're looking for.
With only two calories per treat and only one ingredient, these chicken breast treats are sure to delight your kitty. The grain-free treats can be broken into smaller pieces to accommodate different cat breeds, making them great for training and also the best cat treats for kittens.
These are also naturally gluten-free, meaning they work especially well for cats that have allergies, sensitivities or are on restrictive diets.
No one likes to see their cat suffer, and a hairball is one the most painful and frustrating afflictions they can experience. Left unremoved, they can lead to vomiting, lethargy, constipation, and diarrhea.
Thankfully, the best soft cat treats can help.
Packed with nutritious vegetable oil, along with real, lean protein, they help your cat pass her hairballs with ease. Their included prebiotics and probiotics also encourage healthy digestion moving forward.
Next time your beloved cat does something spectacular, listens to a command or obeys a training cue, don't just stand there empty-handed. Instead, reach for one of the best cat treats you can find and rest assured she knows how much you love her.
Does My Cat Need Treats?
Even though research reveals that pet owners spend more than $2,000 per year on their furry pals, we do so happily, knowing they give us so much more in return.
Like humans, pets crave reward and recognition for a job well-done. And, studies show that for them, treats are of the best motivators and teachers around.
Cat treats can often be multi-purpose. They can also encourage dental health, prevent hairballs, help diet and so much more. Of course, the most important thing is that your cat loves the flavor!
Want to encourage Prissy to keep using the litter box? A nibble of something decadent is what she'd prefer, thank you. Today, we are breaking down the best cat treats available for your pampered kitty.
Ready to learn more? Let's get started!
3 Things You Need to Know Before Buying Cat Treats
When they're used correctly, cat treats can be a great way to bond with your pet and encourage her to continue good behavior.
Yet, there are a few considerations to keep in mind before opening up a new bag and divvying one out. Here are a few to review.
Ingredients Should Be Nutritious and Balanced
Sure, your cat would probably adore digging into a pile of whipped cream. Yet, that doesn't mean it's what's best for her. Remember, as her human, you're the one responsible for ensuring that she's consuming enough vitamins and nutrients.
Thankfully, there are plenty of health-centric pet treats on the market.
How to find the healthiest cat treats:
Check the label before you buy any treats and if you have questions on any ingredients, contact your veterinarian.
Scan especially for high levels of sodium, as this can lead your cat to intake too much water, which can damage her health.
Of course, remember that even the healthiest treats aren't meant to serve as meal replacements.
Aim to have treats comprise no more than 10% of your cat's daily caloric intake.
Don't Neglect Special Diets
Does your veterinarian require your cat to be on a special diet to help control her weight? Does she suffer from a certain medical condition that limits what kind of ingredients she can tolerate? Your kitty might also have dental issues, including gingivitis, that mandate a wet food-only diet.
In all of these cases, it's important to ensure that your treats are aligned with these restrictions. If tooth-related concerns are part of the issue, you might look into the best cat dental treats as a first step.
The same goes with an allergy-specific regimen that your pet might be following. For instance, if you know certain foods upset her belly or cause her skin to break out in a rash, look carefully for those key ingredients in any treats you buy.
People Food Doesn't Count
We know how tempting it is to slide your cat a little bite of your cheeseburger as a reward for staying quiet during dinnertime. Yet, remember that when you do so, you're actually doing her more harm than good.
The reality is that a cat's gastrointestinal (GI) tract is specific to her makeup. Introducing foreign foods that are spicier, saltier and fattier than she's used to can lead to myriad GI tract diseases.
There are some instances in which bland food is OK to introduce into your pet's diet, but always check with your veterinarian beforehand to make sure it's safe.
What to Look for When Shopping for Cat Treats
Natural Ingredients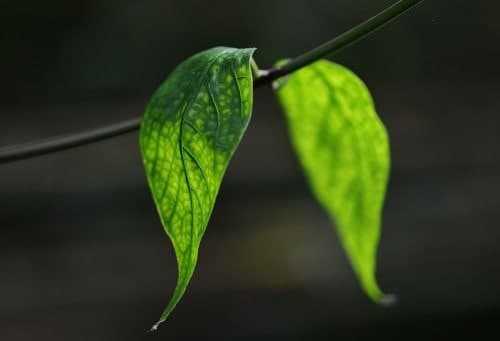 First, seek out treats made with natural ingredients that are domestically-sourced. This way, you know exactly what you're giving your feline friend.
Avoid Preservatives and Additives
In general, steer clear of treats pumped full of synthetic ingredients, artificial colors, fillers, and other preservatives- such as sodium. These might give the treats an incredible flavor and your cat will likely lap them up, but you know better.
Low Carb
Also, look for treats that are low in carbohydrates, as these can negatively affect your cat's blood sugar balance. This is especially important if your cat has a condition such as diabetes mellitus.
Proteins
Great ingredients to keep an eye out for include wild-caught salmon, venison and turkey. In general, animal-based proteins are preferred over plant-based ones to keep your cat's metabolism in check.