Your cat needs to play. It's ancestors grew up roaming through the wild, sprinting and leaping through grasslands and forests. But how can you give your cat a piece of the wild inside your home? The best cat trees will do the trick.
Cat trees are a great way to give your cat its own playground, hangout, and sleep area. These super versatile little structures are a little piece of home, and your cat is sure to love it. Let's check out some of the options available and give your feline friend the best cat tree ever!
Top 10 Picks for the Best Cat Trees & Cat Condos in 2021
We've compiled a list of the best quality cat trees for all different types of cats. Check them out and click around for price and more detailed specs.
1. Go Pet Club 62" Cat Tree
Our pick for the best cat condo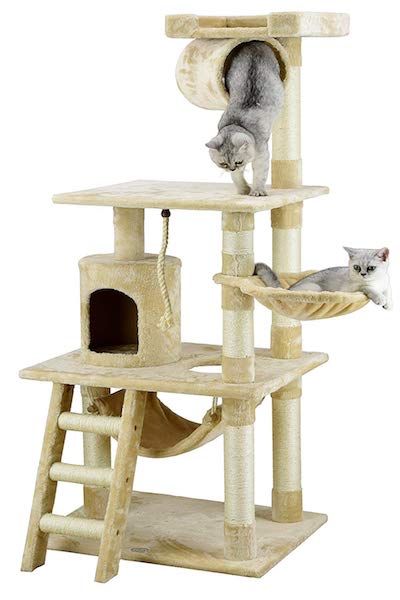 The Go Pet Club Cat Tree is the perfect cat condo for your kitty friend! It promotes play, exercise, and relaxation, all in one unit. With a choice of several colors and a size that fits perfectly into most living areas, this Cat Tree is a luxury tower that's great for your home or apartment.
Features
Posts are covered in sisal rope for durability and scratching
Platforms feature faux fur for a soft and padded feel
Easy assembly and medium size provide comfort and convenience
2. SongMics Multi-Level Cat Tree
Our pick for the best cat tree for multiple cats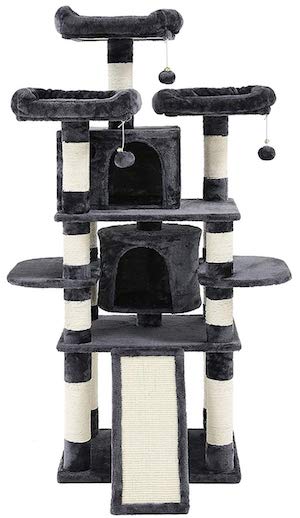 This 67" cat tree comes in gray and white and has a bunch of different nooks and crannies for your cats to explore. Its large size makes it ideal for households with multiple cats. Incredibly stable CARB-certified boards and sisal rope scratching posts means it can stand up to to whatever your kitties through at it.
Features
2 covered nooks and 3 platform perches for your whole cat family
Extra plush padding on perches make for cozy lounging all day long
Fantastic reviews and 30 months warranty ensures a great purchase
3. Armarkat Classic Ivory Cat Tree
Our pick for the best cat scratching tree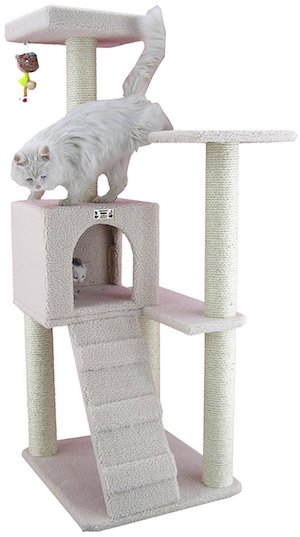 The Amarkat Ivory Cat Tree is a versatile tower built for play and relaxation. With an attractive design and perfect size, this tower will match any room you put it in. Best of all, the tower posts are covered with silus rope, offering an abrasive surface that is great for scratching
Features
Platforms are made from wood with plush covering
Easy assembly with instruction manual and all the necessary tools included
Perfect for fun, relaxation, and scratching
4. Pet Palace Cat Tree Activity Tower
Our pick for the best cat tower
The Pet Palace Activity Tower is a fantastic choice for your more energetic cats. 3 different levels offer unique play and lounging spaces for the full experience. Wooden platforms, comfy plush fur, and sisal rope for scratching offer exceptional stability and comfort. A great choice all around and one of the best cat towers for the money.
Features
Cozy condo offers your cats privacy and a perfect place to sleep
Tall perch allows your cat to retreat to the tower and observe the room from above
Features a cat hammock for happy cat naps
5. Bewishome Cat Tree Condo
Our pick for the best cat tree for older cats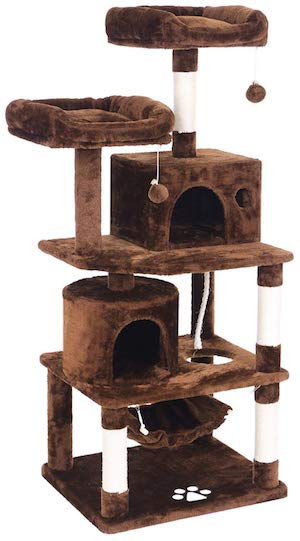 The Bewishome Cat Tree Condo is a roomy and enjoyable retreat that your cats are sure to love. With 5 platform levels, 2 covered condos, and a number of perks like a hammock, toys, and more, this condo offers a lot for the money. Plus, its large size and plush materials make it one of the best cat trees for older cats.
Features
Features 5 platforms, 2 condos, interactive jingly balls, and more
Platform is easy to assemble and made with extra durable materials
Plush covering and the built-in hammock make it ideal for relaxation
6. Go Pet Club Cat Tree House
Our pick for the best cat tree for large cats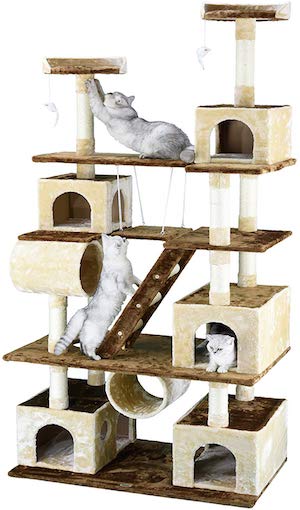 The Go Pet Club Tree House is one of the more expensive units on our list- for a reason. With so much room to play and explore, this is definitely the best cat tree for big cats. Featuring 5 condos, a number of scratching posts, and lots of toys for your kitties, this large tower is great for fun and relaxation!
Features
Pressed wood assembly with faux fur overlay
Scratching posts are covered in all natural sisal rope
Great ratings and easy assembly make for a convenient experience
7. Cat Haven Cat Condo
Our pick for the best cat tree brand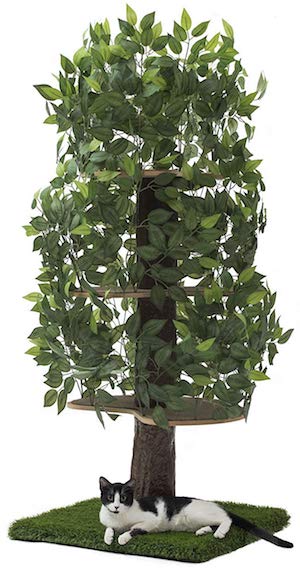 The Cat Haven Condo is one of the most unique cat trees on our list! It features a tree-like design that resembles a real trunk, branches, and leaves, making for a fun and exciting experience for you and your kitties. With a durable wood base, the Cat Haven Condo by expert craftsman On2Pets is an amazing deal!
Features
Can safely support cats that weigh up to 32 pounds
Made in the USA with wood panels, faux carpet, and durable materials
Playful tree-like design is an eye-catcher that you and your cats will adore
8. New Cat Condo Large Tower
Our pick for the best cat condo for large cats

The New Cat Condo Large Tower is one for play and relaxation. With 4 solid platforms that are great for exploring and lounging, you're sure to have one happy kitty. Durable solid wood platforms make this tree great for large cats and cat households, thanks to its premium durability and strength.
Features
Handcrafted in the USA with premium materials that are easy to assemble
Perfect for larger cats and multiple cat households
Household carpet and sisal rope make for a cozy and effective experience
9. Smart Cat Climber
Our pick for the best cat trees for apartments

With an easy over-the-door assembly, the Smart Cat Climber is a unique offering that saves tons of space. Featuring 4 carpeted platforms for you kitties to jump on and explore, this tree is perfect for fun and R&R. Plus, the slim design makes it the best cat trees for apartments and other small spaces.
Features
Spring-loaded brackets make mounting the climber a breeze
All natural sisal post is perfect for scratching and play
Durable wood and carpeted platforms for safety and comfort
10. Refined Feline Lotus Cat Tower
Our pick for the tallest cat tower
As the most expensive cat tree on our list, the Refined Feline has a lot to live up to. Sporting a sleek and modern design, the Lotus Cat Tower is a unique piece of furniture that will fit in with your high-end decor beautifully. Oak veneer, carpeted platforms, and sisal posts for scratching offer an unrivaled experience.
Features
Oak veneer and brown barber carpeting offer a gorgeous color palette
Washable cushions feature a faux suede exterior
The Lotus Tower is easy to assemble and includes all the necessary tools
What is a Cat Tree?
A cat tree, or cat tower, is a structure that cats can use to play, exercise, and sleep on. They come in a variety of shapes and forms, but they usually stand vertically with a few levels of platforms and some nooks and crannies for privacy.
Regardless of style, they're all designed to improve your cat's quality of life by your kitty its own space.
What are Cat Trees Made of?
The base and platforms on most Cat Trees are built out of wood or particle board for superior durability. On top of these boards, you'll generally see plush carpeting for comfort and warmth.
The posts that hold these platforms up are often wrapped with sisal rope, a durable and abrasive material that works great as a scratching surface for your cats. These scratching areas are very important to stop your cats from ruining your furniture or making big messes. Plus, they really enjoy doing it!
Benefits of Cat Trees
The cat's not out of the bag yet! There are a number of reasons why cat trees are a good idea for your feline friends.
In addition to your standard set of features, you can find lots of extra little perks and bonuses depending on the model of cat tree you choose.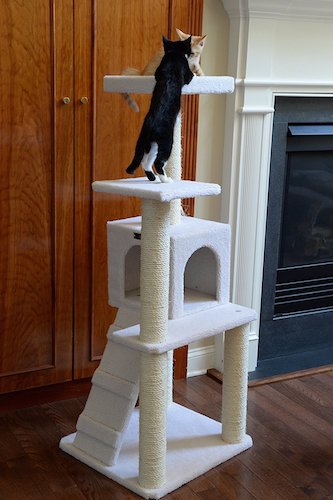 Condos. One of the best things about the cat trees on our list is that they almost all come with built-in condos. These little enclosures offer privacy and solitude to keep your cat happy and comfortable.
Hammocks. Cat hammocks are all the rage, and for good reason. Give your cat an unbeatable catnap by buying one that features a hammock.
Toys. Everyone loves to play, and cats are no different. Offer your cat loads of fun with a cat tree that features built-in toys like hanging balls and scratch posts. They'll be entertained for hours!
Nooks & Crannies. Many of the best cat trees offer little nooks and crannies that are perfect for sneaking and finding solitude.
And that's not all! Take a look at the product details, because you're sure to find extra little perks and bonus features that make each tree unique.
Choosing the Best Cat Tree
Once you've narrowed down your top favorite cat trees, you can start thinking about what's really important for you. Do you have a large family of cats? A bigger tree may be best suited. Does your cat like to hide? Be sure to get one with a condo or two.
Let's take a look at some of the major factors that go into choosing the best cat tree.
What To Look For in a Quality Cat Tree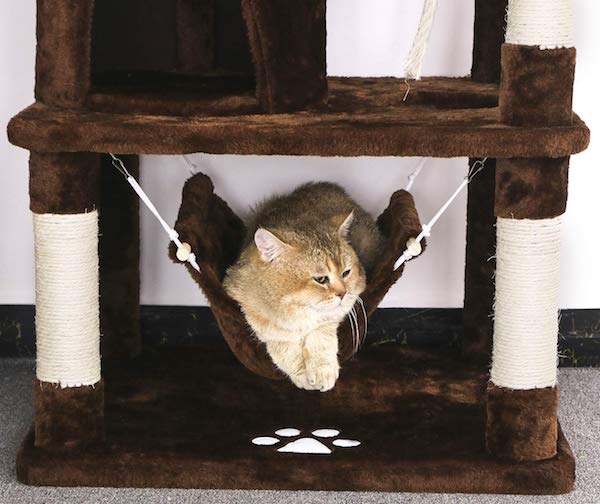 Size. Size is an important factor in choosing the best cat tree. If you have a larger cat or multiple cats, you're definitely going to want to choose something bigger. Measure the area where you're setting up the cat tree to get the perfect fit.
Price. Price is a huge factor when buying anything, and cat trees are no different. Prices start at under $50 and can go up to $300 and above.
Features. In addition to your standard options, many cat trees come with extra features that make it special and unique. Keep your cat in mind as you shop to find the best fit.
Style. Colors, materials, and more are all things you'll have to take into account when you choose your cat tree. Many cat condos come in multiple color options, and most are designed to be attractive and non-obtrusive. Look around to find the right fit!
It's important to note that it really comes down to finding the perfect fit for your cat, as there is no one size solution. When you find a tree that speaks to you, go for it. Your cat will thank you!