In this article we're going to take a look at the best cat toys and why it's important to keep your cat busy! Despite their predatory nature, cats are social creatures that need constant entertainment. A bored cat gets lethargic, gains weight, changes his or her eating schedule and becomes unhealthy.
On the other side of the fence, a bored cat looks for entertainment around the house and eventually ends up damaging furniture, especially sofas or other items they can sink their claws in. Trying to keep your cat happy and healthy is a continuous action you should take for the sake of your purry pet. Toys are the most helpful tools you can get here.
5 Best Cat Toys: Keep Your Cat Happy in 2021
Being a cat person, you always look for ways to entertain your feline. However, the best items change every year, as manufacturers update their products and test out new ways to keep your cat happy and healthy. While they should bring no harm to other items around the house, cat toys keep your favorite pet exercising and busy.
1. PetSafe FUNKitty Egg Cersizer Interactive Toy and Food Dispenser
Cats have a great time doing two things: playing and eating. The market's newest toys comprise both in an exercise-and-reward activity. Simply put, the cat must solve a puzzle for the toy to dispense their favorite food.
However, do keep in mind that cat chew toys can do more harm than good when they aren't reliable and durable. The most common dangers are chocking or getting their tiny teeth stuck in the toy. Yet, there's a lot to choose from when you look out for safe cat chew toys that might turn out to be the cat's next favorites.
The toy comes with adjustable openings that increase or minimize the challenge to solve the puzzle. It's synthetic and dishwasher safe if you only place it in the top rack. Moreover, the FUNKitty egg dispenser improves the pet's digestion thanks to dispensing only small portions of the food randomly.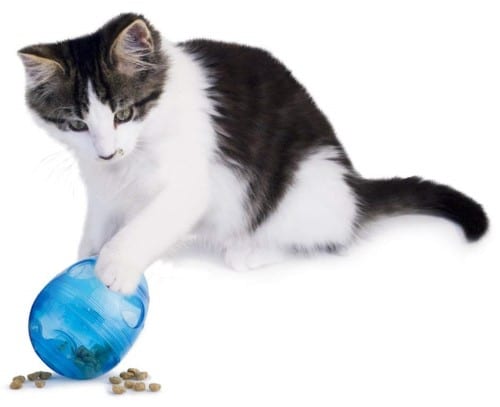 Use It To:
Expand your cat's puzzle experience with a new egg-shaped challenge that rolls around the house.
Provide your cat with a rewarding and delightful catnip treat.
Make sure your cat doesn't overeat as it keeps its hunting natural instincts active.
2. Petmate Incline Scratcher Cat Toy
Your cat has natural scratching instincts that might lead to unwanted behavior if not managed wisely. Cat scratchers are useful at any age and keep your hat busy for a while. Your sofa and chairs stay safe and in shape while the cat pursues the scratching.
The Petmate scratch pad is recyclable and reversible for extended use, so you won't need to purchase a new product after a month. The item is more of a practical toy that comes inclined to ensure a natural scratching process.
Your cat's attention is instantly grabbed because it's sprayed with North-American grown catnip. According to a study, cats fully relax when eating and smelling catnip for 10-15 minutes. Moreover, around 70-80% of the global cats inherit the preference for catnip.
Use It To:
Keep your cat's paws in shape and at the right size.
Keep your furniture safe from scratching, and your kitty from getting their paws stuck there.
Protect the environment, because the KONG scratch pad is entirely made of natural and renewable resources.
3. GoCat Da Bee Teaser Cat Catcher Wand
The cat catcher wand is an interactive item that your cat might stay busy with for hours. The dangling piece resembles a small rat that your cat can play with at all times. You will need to play together but the toy provides you with almost effortless quality time.
Do pay attention to the elastic string not to harm the feline. However, you can avoid such a risk by not leaving the wand out in the open when you cannot engage in playtime.
American veterinarians recommend the catcher wand as an interactive exercise toy that fits cats of all ages. It was also handcrafted and connected to a visible glitter wand.
Use it to:
Get some exercise and playtime with your cat.
Create a daily playing ritual to compensate for the time you keep the wand hidden.
Promote your cat's natural predatory instincts.
4. Trixie Cat Toy
The Trixie Cat Toy is the premium version of cat entertainment items. The toy is a 5-in-1 activity set that brings together the best reasons why cats enjoy playing. The tailor-made center contains five modules – a globe, an alley, a peg, a tunnel and a tongue.
The cat can play in five unique ways:
The tunnel begins with a mouse hole to make it a hunting task for the cat to find toys and treats.
Peg allows cats to smell treats and track them down through a puzzle-type map. Yes, it's so creative it even involves a hunting strategy.
Globe looks like a fish bowl which lets cats scoop out treats using their paws.
Interactive alley is a chase-and-reward game that requires cats to use their paws and claws to earn treats.
Tunnel works for liquid treats that the cat can eat without getting dirty on his or her paws.
The toy is safe for cats as it's heavy enough to prevent them from dragging it around the room. Moreover, cats of all ages can explore their instincts. According to another study, cats have a more sensitive smell than dogs. These five games are developed to help your furry friend pursue its smell potential.
Use It To:
Balance the cat's digestive system as it doesn't eat a lot of food at once.
Promotes the cat's concentration and natural curiosity.
Help your cat use smell, sights, hearing, and taste to solve puzzles.
5. CJMJ Catnip Plush Toy
Cats love to chew, as well as dogs. In fact, you know that properly caring for your cat also involves keeping their teeth clean. The catnip-enriched plush toy allows your cat to chew while it reduces dental plaque.
The soft plush is suitable for kitty play as it's comfortable and highly colored to keep it visually appealing. The toy might even become your cat's favorite friend while you're away. You can purchase it in one of your cat's favorite colors – blue, red, brown, yellow or green.
Plush may not seem a solid fabric, especially when it involves strings. However, the product comes with a product quality and service guarantee.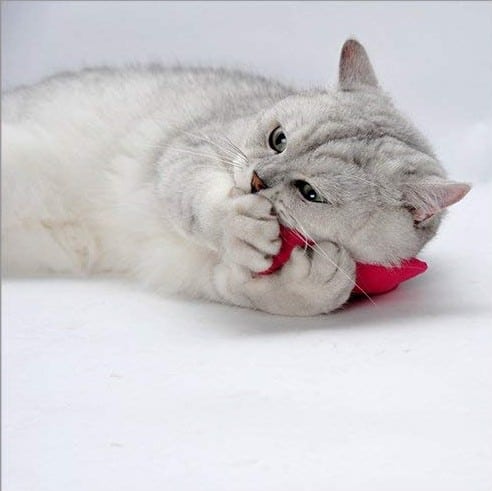 Use it to:
Keep your cat entertained with a familiar-looking toy while you're away.
Provide your cat with the relaxing effects of catnip.
Keep your furniture safe while your cat bites and chews on the toy.
Keep Your Cat Happy and Healthy at all Times
A healthy and happy cat is a reliable furry and purry friend that helps you relax. The little one provides you with the joy you've expected from it, without the home damage having a cat involves. Cats get bored, as well as other pets. Entertainment keeps your kitty active, focused and busy from chewing furniture, the carpet, and other objects. Having one of the best cat toys is a great way to avoid these problems.
It's easy to keep your cat happy and healthy when you are informed about the toys you purchase. The above focus on both cat's entertainment and health. Find the right toys, spend some quality time with your little animal friend and keep it away from becoming a potential Garfield!
Related Reading