You may think a dog can sleep anywhere: the floor, the couch, a blanket, but the truth is your furry friend needs a good comfortable bed to curl up on at night. Beyond acting as a luxury for your pet, a bed is essential to fulfilling a dog's need for their own area. Just like humans need their own room, dogs need beds to serve as a safe space, where your fur baby can retreat and feel relaxed. Sometimes, folks will put the dog bed in a crate, or simply put it somewhere in their living room. Here are 8 of the best dog beds for your best buddy!
If you're on the market for a crate, checkout our buying guide on the best dog crates (indoor & outdoor)!
8 Best Dog Beds in 2021
Here are the top rated and most popular dog beds currently available.
1.Cozy Cave Pet Bed
This cozy bed is perfect for dogs who like to hide under the covers. The cave-like design is lined with ultra-warm sherpa and makes it super easy for your baby to cuddle up. It comes with a zippered cover that you can wash and dry, which makes cleaning it a breeze. It also comes in a variety of sizes and colors, so you're sure to find one that best fits your dog!
2. Armarket Pet Bed Mat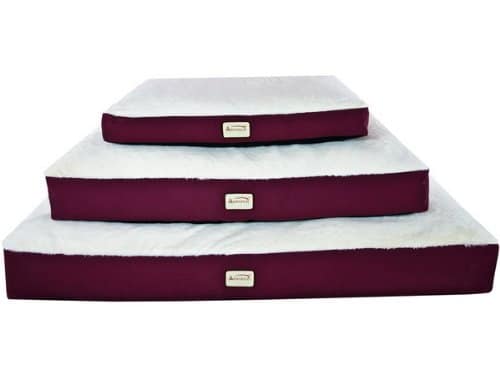 This mat is the perfect solution for crate training. It comes in all different sizes that can fit into a wide variety of crates. It's got a skid free base that will ensure your dog doesn't slip and slide around. The zippered cover has a waterproof liner, so cleaning up any accidents will be stress-free. Even the larger sizes of this mat are under $100, which makes it perfect for a mid-range budget.
3. Coolaroo Elevated Pet Bed
This clever bed gets your dog off the floor! It suspends fabric on a super durable, metal frame to allow air-flow to come under the bed and keep your pup cool. It is made of a special fabric that is resistant to water and pests. Its strong build and tough materials make it perfect for a chewer. If your dog treats their bed like a chew toy, this may be a good alternative. The design makes sure your pup is well supported, but you could always add a blanket or padding for extra coziness.
4. The Casper Dog Mattress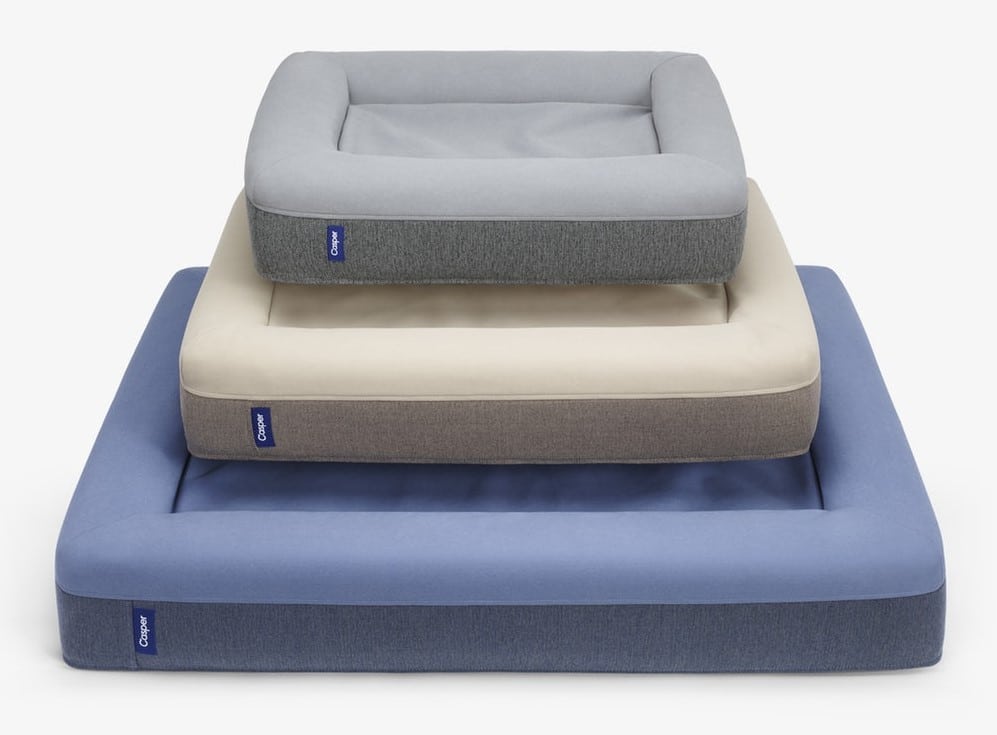 The manufacturers over at Casper know how to make a mean mattress. People rave about the comfort and sleep changing quality of their beds. Why not trust them with your best friend's bed too? Casper makes a splurge-worthy dog bed. It utilizes two layers of foam for support and comfort for your pup. It has a machine washable cover for easy cleaning and even comes with a 100-night trail. If your dog isn't happy, you can send it back for a full refund!
5. Serta Orthopedic Dog Bed
If you like the idea of a doggie mattress, but the Casper is a bit too pricey, you'll love this option. Serta makes a dog-bed too! It also uses foam for support, and it's got a plush, quilted top. It has a removable cover and comes in four different colors for picky pups. It's a great Casper alternative for budget-conscious owners.
6. AKC Casablanca Bed
Pet owners on a super tight budget will love this option. This round bed is perfect for doggies who like to curl into a ball to sleep. It's made of soft polyester and is machine washable. It's best for smaller breeds, as it only comes in one size, but there are different beds on AKC's Amazon page that might suit bigger dogs. At only $15, the price is hard to beat.
7. The Big Barker
If you've got a gentle giant on your hands, this is the perfect bed for them. It comes in big sizes: large, extra large, and giant. It's made of three layers of foam that are guaranteed to keep its shape even when faced with your Great Dane. The bed is made in America and has a 10-year warranty backing it up, so you can be sure that you won't need to replace it anytime soon.
8. Deep-Dish Cuddler
This bed is a dream for small pups who love to cuddle! The high walls of the bed are lined with plush material, and give your baby something to snuggle up to at night. It's made from completely non-toxic materials and has a waterproof base so you can rest easy knowing your floors are safe. It's another budget-friendly option, at just under $25.
What to Look for Before Buying a Dog Bed
Here's a quick checklist to run through before dropping that dough.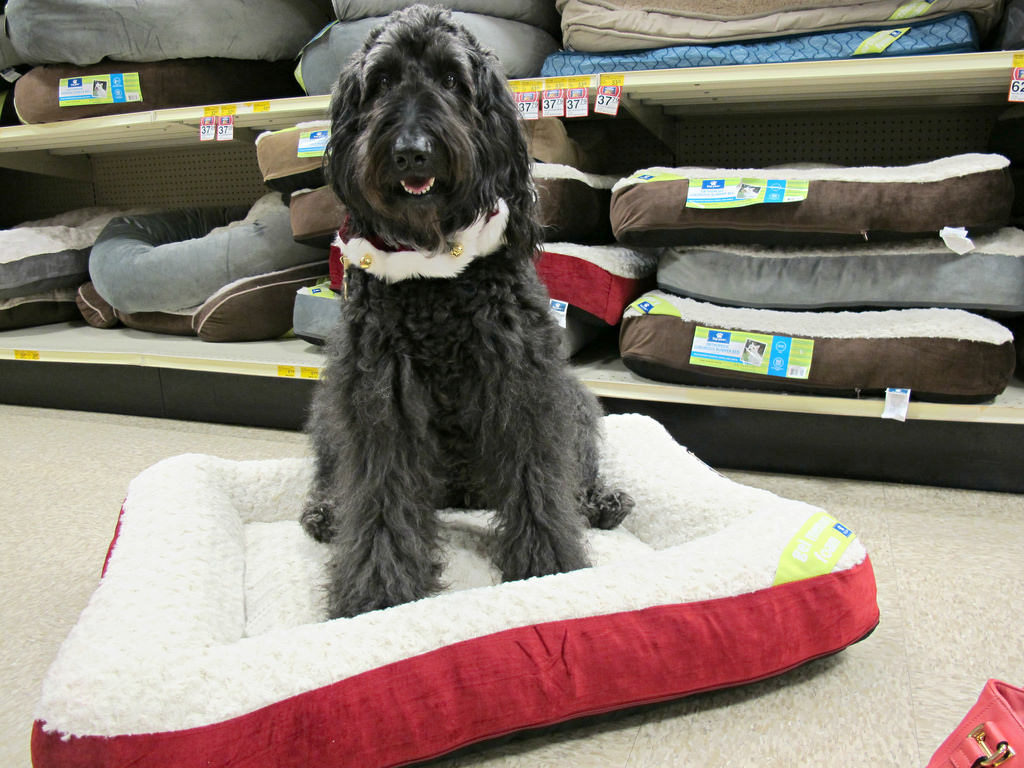 Type. There are three main categories of dog beds. The standard dog bed doesn't have any edges also known as a raised perimeter. It is simply a cushion that is usually filled with polyester or memory foam. The second category of dog bed is the "nest" style bed which feature a bed bottom and raised walls; these are great for dogs who tend to curl up when they sleep and smaller breeds. They often use the same materials found in standard dog beds. Last but not least is the raised dog bed. A raised dog bed employs the use of a PVC, metal, or wood frame. This type of dog bed is ideal for outdoor use such as on the patio.
Size. This is pretty straightforward. You don't want to buy a tiny nest style dog bed for a giant Great Dane. It would provide just enough space to rest their head. That would be silly! Manufacturers are pretty good at posting the dimensions of their dog beds and they often provide 3 or more models for dogs of all sizes. Sometimes they will put the recommended weight of the dog on their product information as well.
Easy to Clean. Going beyond the basics, one characteristic of the dog bed most folks overlook is how easy it will be to clean it. Removable covers and washing machine safe dog beds go a long way to keep things tidy and odors at bay. Between the slobber, bone chewing, and stinky dog smell things can quickly get out of hand. Of course, you can always buy a new one but that probably isn't the best strategy for the ole' pocket book. Find a dog bed that is easy to clean and you'll extend the life of your purchase significantly.
Brand. We'd like to mention you can't go wrong with models from Majestic Pet, Big Barker, and Kuranda. Nonetheless, don't get too hung up on brands in the dog bed space. Dog beds notoriously take a beating and unless you really want to pay an arm and a leg for a super durable product, most affordable models are comparable and use similar materials in their construction.
Related Reading