Those bright blue eyes. That adorable grin and happy disposition. The Siberian Husky is the 12th most popular dog breed on the AKC registry. Now you've got your very own!
But, what do you feed this amazing new friend? Here are our picks for the best dog food for huskies. From puppy to full-grown companion we have the right picks for nutrition. Our suggestions are grain-free all the way from meals to treats. Here's our guide to feeding your Husky the diet they crave.
How to Choose Good Dog Food For Huskies: Your Complete Guide
There are so many dog foods on the market. But, what's best dog food for Siberian husky puppies and adults? There are many health considerations when it comes to huskies.
They can be prone to joint and eye problems later in life. By feeding them a quality diet from day one you can help them live longer happier lives.
Avoid inflammatory foods like processed animal by-products and grains to build stronger bones.
Using meat and veggie-focused food helps your dog live its best life.
Top 10: Best Dog Food For Huskies
Here we will outline the best dog food for your Husky from birth to adulthood. Let's start with the list of the best food for Husky puppies.
Best Food for Husky Puppy Dogs
The best dog food for husky puppy dogs needs to be high in protein and low in grains. The best dog food brand for Siberian Huskies depends on your dog. Be open to trying a few different brands until you find the one your dog likes best.
Husky health depends on lots of different factors. The healthiest foods are the ones with the least amount of ingredients. Look for natural foods with whole food components.
Here are our Top 5 Husky puppy foods.
This dog food is something special. Zignature's grain-free formula features imported duck from Western France. This high protein blend will keep a puppies tummy happy. This food features a powerhouse of vitamins and minerals.
This food focuses on whole ingredients. The meat-first blend provides high levels of omega-3 fatty acids. Iron, Phosphorus, Zinc, and Selenium abound all while not increasing sodium levels.
Zignature combines meat with a variety of plants. Blueberries, chickpeas, flaxseed, and other fruits and vegetables. They help create a perfect protein to fat ratio for your growing Husky.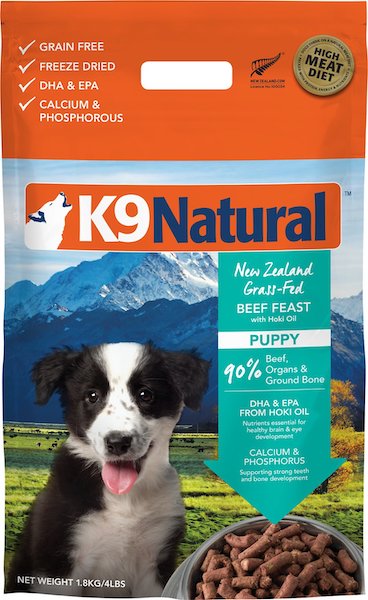 K9 Natural uses grass-fed meats and Hoki oil in their all-natural freeze-dried dog food. Hoki oil, made from sustainably sourced Hoki fish off the coasts of New Zealand. This pet-safe fish oil adds to the nourishing proteins and fats needed to help your new baby grow strong.
Supporting the development of large breed puppies, like Huskies, isn't easy. K9 Naturals freeze-dried food contains all the nourishing proteins and fats. This is what your precious new baby needs to thrive. It contains DHA for eye health. Also included is calcium for strong teeth. K9 Natural is a fantastic choice for your puppy.
If you prefer wet food over dry these Nutro food trays are the best. They feature yummy blends of whole ingredients in a gravy. They are non-GMO and grain-free.
You can use this food on its own or as an addition to other dried foods. Warm it up a little for an extra special treat.
The individually sealed trays make it perfect for puppies on the go. The no-mess packaging lets you toss them in your bag and head to the dog park. Great for camping gear, hiking packs, and even your purse. This food stays fresh and is ready for service anywhere. Your puppy can have a nutritious meal wherever you are.
Looking for a puppy food you could share with your fur baby? Tylee's has created a human-grade dog food your puppy will love. In Tylee's Beef Recipe you will find real USDA beef plus real fruits and veggies.
A blend of the following joins the beef for a tasty formula:
sweet potatoes
mango
broccoli
spinach
and zucchini
Full of fiber, antioxidants, phytonutrients, vitamins, and minerals. Guaranteed to help keep your pal in top shape.
Flaxseed and sunflower oil add some essential fatty acids like omega 6 and omega 3. Great for husky puppies with sensitive tummies and supportive of a shiny healthy coat.
Another great choice for sensitive stomachs is the K9 Natural wet canned dog food. Perfect for large and small breed puppies. This blend uses only New Zealand water to mix. This means it's free of all gelling agents and added chemicals.
The addition of the ground bones helps keep phosphorous and calcium levels high. This promotes healthy teeth and bone development.
Add this yummy wet food to the top of the K9 grain-free freeze-dried food for a special treat. Your puppy will think it's their birthday. You'll know they're getting an extra infusion of nutrition-packed goodness.
Because of the great canned and dry dog food options, K9 Natural is our pick for the best food brand for husky puppy dogs.
Best Food for Husky Dogs as Adults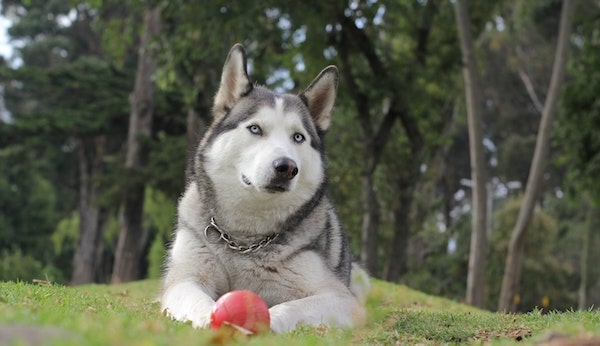 What changes when your baby grows up? They need food that supports their active lifestyle. Nutrients that keep them healthy and vibrant for whatever the day has in store. Huskies are a super active breed and are ready for anything. Feeding them a quality diet lets them stand by your side in any outdoor adventure.
Here are the Top 5 best dog food for huskies as adults.
Sport dog food uses a blend of low ash animal sources. Sources like whitefish and a pea free blend of veggies create a nutrition powerhouse. The low carb and high fiber ingredients help keep your pet regular and active.
There are never any corn, soy, eggs or egg products. They've worked hard to exclude ingredients like peas, wheat, flax, and white potato. This reduces inflammation and allergen risk. This is a dynamic food for your dynamic best friend.
Only Natural makes a flavor and nutrient-packed food. Using only pasture-raised animals and wild-caught fish sets them apart. They have also added pumpkin to boost fiber and nutrition. It easily makes our list for best husky dog food.
Omega 3 and 6 rich this food is bound to be a favorite with your furry companion. The mix is 90% real meat. These air-dried bites are grain-free, corn-free and soy-free. This means optimal nutrition, health benefits, and taste. Unique to Only Natural is the addition of herbs. Herbs like parsley add phytonutrients and flavonoids.
Lotus has created a one of a kind dog food. They use a combination of real sardine and herring. Recognizable fruits and vegetables like dried peas, carrots, apples, spinach, and blueberries join the fish.
Adding a blend of olive and salmon oil helps the oven-baked bits lubricate joints and keep coats shiny. The only meat is fish so dogs requiring a limited ingredient diet can enjoy this one as well.
Wellness grain-free uses deboned chicken as its number one ingredient. Adding fruits and vegetables for nutrition you'll be proud to serve this to your dog. You can pronounce every ingredient.
These kibbles are chock full of natural ingredients, such as:
blueberries
apples
chickpeas,
carrots
spinach
and sweet potatoes.
These all support that filling chicken base.
Glucosamine hydrochloride and chondroitin sulfate help support hip, joint, and immune system health. This is important for large breed dogs whose hips bear more weight than smaller animals.
Slow-cooked chicken and peas are the stars of this food. Blackwood has added probiotics and eliminated all artificial colors and flavorings. They cook the food in small batches with super-premium all-natural chicken.
Their blend focuses on easy digestion. So, your dog won't have any trouble keeping up with you through anything. This food will round out your dog's nutrition profile and keep them going strong for years to come.
Give Your Huskies Long Life and Wellness with Quality Nutrition
Pets are like children. They become one of the family. This is even more true for husky owners. The Husky is the ultimate family dog. They love on your kids and are loyal to a fault.
We hope you find our list of the best dog food for huskies helpful to your pet. We have strived to provide the best choices from birth to adulthood. The grain-free choices here will support your pet. The diet helps avoid common ailments like hip dysplasia zinc deficiency. At the end of the day, food is thy medicine. Feed your pet a diet rich in nutrition and they will stick around for the long haul.
Now that you've taken care of your husky's tummy lets keep the party going. Click here to read our breakdown of the best dental chews for dogs. These chews help keep the teeth strong and avoid bad breath and staining. They will keep your pup ready for kisses anytime!