Welcome to our article that goes over the features and benefits of having the best dog training collar for your pup. Having a pet dog can be life-changing for the better. They are smart, they improve your social life, provide great security, reduce your stress any time you're around them, and they help promote physical fitness.
However, they are a rowdy bunch. They tend to knock things over and sometimes they fight with other dogs. And with over 89.7 million dogs in the country, how can you prevent your own dogs from getting into a tussle with one?
Training collars are the best way for you to train your dog. The best dog training collars will make sure your dog behaves in the way you want them to behave. You can also use these to get rid of the habits which you think may put your dog at risk. Below are 10 of the best training collars you can find online. Use these to condition your dog into the best companion for you.
Dog Training Collars Comparison Table 2021
Here are all of the best dog training collars of this year in one place! For more information, keep scrolling. The collars in this table are in the same order as those in our expanded product information section. We've got them in order from price, lowest to highest, and they each feature a popularity rating based on consumer feedback.
| Image | Enclosure Type | Settings | Dog Size | Cost | Popularity |
| --- | --- | --- | --- | --- | --- |
| | Casfuy Bark Collar | Beep, Vibration, Shock | 10-150 lbs | | |
| | Petrainer Pet998DRB Dog Training Collar | Beep, Light, Vibration, Shock | 10+ lbs | | |
| | eXuby Shock Collar for Small Dogs | Vibration, Shock | Small Dogs | | |
| | Pet Union PT0Z1 Premium Dog Training Shock Collar | Beep, Light, Vibration, Shock | 10-100 lbs | | |
| | Banne Dog Training Collar | Tone, Vibration, Shock | 22-88 lbs | | |
| | Zeonetak Dog Training Spray Bark Collar | Spray Scent | Any Size Dog | | |
| | iPets Waterproof and Rechargeable Dog Shock Collar | Vibration, Shock, Beep | 10-100 lbs | | |
| | SportDOG 425 Remote Trainer | Shock | 8+ lbs | | |
| | Aetertek Shock Control Pet Dog Training Collar | Shock, Vibration, Beep | 15-150 lbs | | |
| | Dogtra Fieldmaster | Shock, Vibration | 10+ lbs | | |
10 Best Dog Training Collars: A Closer Look
1. Casfuy Bark Collar
Best Training Collar for Puppies
The collar of choice if the main problem you have with your dog is excessive barking. This collar has 3 modes of training as the others. It also has 7 shock intensity options. Its shock is mild compared to the other training collars. This ensures your dog isn't punished too much when barking. Instead, they're given a gentler shock or even no shock if you opt into the other modes.
Casfuy bark collars have a smart bark detection chip. This works by detecting vibrations along the collar instead of detecting sound. This prevents anything other than your dog's bark from triggering the collar.
Bark collars by Casfuy have a low weight requirement of 8 pounds. This means you can fit them on any size dog and even certain puppies. Together with its safety features, this makes the Casfuy bark collar the best training collar for puppies. Train them while you make them feel at home.
2. Petrainer Pet998DRB Dog Training Collar
Best Dog Walking Training Collar
The Pet998DRB training collar also features 3 modes to train your dog with. The shocking feature has 100 different levels of stimulation. It has an adjustable collar that can fit any neck size from 15 inches to 22. It also features a low-light setting which allows you to be able to spot your dog with ease even in dark settings.
An LCD display lies within the transmitter to allow you to see the user interface even during the night. These features allow you and your dog to travel at night even without opting to use a harness for your dog. That convenience factor easily makes it the best dog walking training collar.
3. eXuby Shock Collar for Small Dogs
Best Training Collar for Small Dogs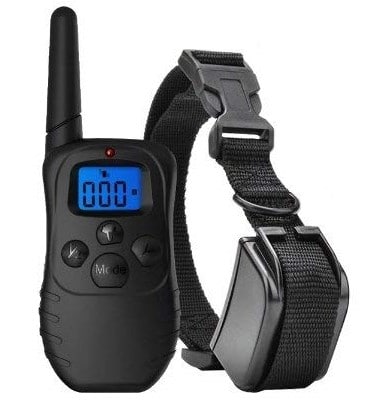 eXuby remotes have a simple design. These allow you to handle your small dog and choose settings with ease. Although they are heavier, they make up for it with battery life. These collars can last up to 10 days on a single charge. Their charging time lasts only up to 3 hours.
They have a range of 1000 yards. Even at the edge of the covered area, the shock will trigger as soon as you activate it. Not a fan of shock training? Noise and vibration settings are also offered for a more humane way of training.
4. Pet Union PT0Z1 Premium Dog Training Shock Collar
Best E Collar Dog Training Device
Pet Union collars have a range of 400 yards and are ideal for dogs weighing from 10 to 100 pounds. They feature the same 3 training modes with the addition of a light mode. This also comes with 1-100 intensity options for shocking.
It has a lithium-ion battery which ensures a long charge life. It also has an auto power protect mode. This mode conserves battery when it's not used. The remote for this shock collar is larger than the others. This ensures easy handling when choosing the settings for your dog.
5. Banne Dog Training Collar
Best Dog Training Collar for Large Dogs
Best used on dogs weighing in at around 22 to 88 pounds. The Banne training collar allows you to train medium to large dogs with ease. This collar allows you to set the intensity level of your simulated shocks with 16 different options. You can control the shocks from up to 650 yards away.
The adjustable collar on this model can fit any neck size from 9 to 25 inches. The receiver included with it is waterproof. This collar also features a fast-charge battery. It does this by using lithium polymer batteries as its source. With them, you can charge the battery in only 2 hours.
6. Zeonetak Dog Training Spray Bark Collar
Best Dog Training Collar Under 100
If you want an alternative for training aside from shock or vibration, we suggest looking into a spray bark collar. The collar uses citronella scented spray that can be positioned near the snout to cause gentle irritation as a deterrent to bad behavior.
The remote works from 330ft away and comes with multiple programming options to aid your training. If you're looking for a more modern and humane option for training collars this is a great option for under $100.
7. iPets Waterproof and Rechargeable Dog Shock Collar
Best Training Collar for Dogs
The Ipets collar comes with the usual 3 modes and 100 intensity option. The main difference is their remote has different buttons. These buttons each correspond to a different training mode. This makes sure that you don't set off a different mode by accident.
Ipet collars have a range of 300 yards. The transmitter also has no problem sending a signal at max range. They also have a large weight allowance. You can place it on dogs that weigh up to 100 pounds.
8. SportDOG 425 Remote Trainer
Best Remote Dog Training Collar
SportDog remote trainer collars have a reach of up to 500 yards. They can fit any neck size between 8 to 22 inches.
The main feature this collar has is its ability to send signals to up to 3 collars at once, forming a net of connected collars. While they are within the 500-yard range, you can choose between 7 different intensity levels to give them either a momentary shock or a continuous one. It also has an intensity dial that is easy to understand.
Even if your dogs are underwater, the collar can reach them up to 25 ft below the surface.
9. Aetertek Shock Control Pet Dog Training Collar
Best Waterproof Dog Training Collar
The Aetertek At-919c collar is ideal for dog owners looking to train their pets in a big, open area. This kit allows you to send a signal to the collar from up to 600 yards away. It features an electromagnetic induction switch which makes it easier to activate and deactivate the collar from a good distance. It also has an LCD interface which makes it easy to read what current settings the collar is on.
Aetertek At-919c collars are waterproof and come with 3 settings for dog training. There is a vibrate setting for when you want to train small quirks your dog has like jumping, excessive barking, or housebreaking. Then there is the shock feature, which comes in 10 levels of shock stimulation. Use this when you want to make sure your dog knows what if they're doing something wrong.
10. Dogtra Fieldmaster
Best Dog Training Shock Collar for Sporting Dogs
The Dogtra Fieldmaster allows you to train your dog even when they're 1/2 a mile away. This collar also features an LCD screen. This displays the current battery life and shock intensity level.
Unlike most dog training collars, the Fieldmaster has 127 shock intensity options. You can choose to give them a small jolt or a constant shock. You can also opt for a milder punishment with the vibration mode. And unlike other dog training collars, this doesn't have a tone function.
Benefits of Buying the Best Dog Training Collars
Not sure why you have to invest in the best dog training collar? What makes the listed products better than a traditional collar?
First off, keep in mind that shock collars are more humane than choke collars. The latter can hurt your pet and create a sense of fear or anger in your dog. Shock collars don't hurt your dog – the shock is minimal and is only meant to get their attention and deter them from the wrong behavior.
Another benefit is that your dog is more likely to pay attention and follow the command. Soon enough, you'll have a pet who knows how to wait before going outside, who won't make a mess in the living room or go beyond its boundaries.
3 Things to Know Before Buying a Training Collar
Most dog training collars can look the same. They may all have a small LCD screen, a remote, and an appealing design. So what makes one better than the other?
There are three important factors to consider:
1. Size
Make sure you know the exact size of the collar suited for your dog. Know your dog's neck size, the weight they can handle, and the thickness or width of the collar suitable for their build. You don't want to put a thick, heavy training collar on a chihuahua, for example.
2. Build
You also have to consider the durability and fabric of the training collar. Is it water-proof? Is it strong enough to last through constant wear and tear? Can it survive if your dog decides to rip through it when they try to take it off?
Also, consider the fabric used. Can it make your dog feel itchy or uncomfortable? Take time to look into this because a comfortable build helps ensure your dog won't attempt to rip it off.
3. Features
This is perhaps the most crucial factor to look into. How intense are the shocks? Does it have any other built-in system like a beeper when the dog is too far or a vibrator notification? Some collars feature an LCD screen on the collar, so you may want to check if the one you like has this too.