Cats are just like us. We mean aside from the nine lives, four, and extra feet. What we mean is that they're just like us when it comes to their nutritional needs. They need protein, fats, vitamins, and minerals to stay healthy – just like humans. And as their human (or their slave, depending on your cat's attitude) it's your job to make sure they're getting everything they need. The best vitamins for cats can help boost their health.
There are many things people don't know about cats' nutritional needs – including the fact that they get most of their hydration from food, not water. Learn if you're fulfilling your cat's nutritional needs below. Up first- our 7 favorite vitamins for cats of all ages.
7 Best Vitamins for Cats
Every cats' nutritional needs are slightly different, so we've divided the supplements and vitamins below into categories, so you can easily find the best one for your baby. Be sure to look at other options from these same brands.
1. VetriSCIENCE NuCat Multivitamin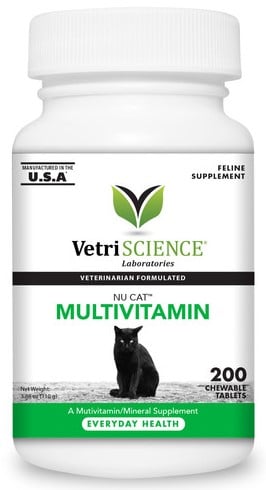 Best Overall Cat Multi-Vitamin
If you're just looking out for your kitty but don't have a specific complaint, this is the vitamin for you. Not only does it have omega threes for those healthy fats, but it has the all-important taurine we mentioned above.
This vitamin is appropriate for cats of all ages, including kittens (though you may have to crush it up). This brand is formulated by veterinarians and a bottle comes with a 90 day supply!
Reviews say that these tablets are best cut in half or ground up and put in food, as they're tablets, not soft chews.
2. Licks Pill-Free Multi-Vitamin
Most Creative Multivitamin for Cats
Cat treats have gone lickable these days. The hottest cat treats on the market are a cream/paste-like substance that comes in a small tube and you give to your kitty to lick up.
This multivitamin is the same idea. If you cant get your cat to take a tablet or they won't eat their soft chews, try transitioning them to liquid treats, then sneaking this in once they're hooked!
Have a picky cat? Since these are gel, they're easy to mix into wet food – your cat won't know the difference!
3. Tomlyn Immune Support L-Lysine Powder Cat Supplement
Best Cat Vitamin for Immune Support
Does your cat have a lot of ailments? Try this immune support L-Lysine Supplement Powder for Cats by Tomlyn.
It comes in powder form which makes it easy to mix into your cat's food.
Reviews say that it's a "miracle product!" and that its great for immunocompromised kittens (with a vet's approval, of course).
4. Tomlyn Laxatone Hairball Remedy Chews
Best Hairball Control Supplement
If your cat is long-haired and prone to hairballs or is extra-anxiously licking themselves, a hairball supplement is a good idea. It'll help their body avoid making clumps in the stomach, and therefore reduce those nasty hairy surprises.
These Tomlyn Laxatone Hairball Remedy Chicken Flavor Cat Chews don't only help prevent hairballs, but they have omegas to help your cat's skin and coat stay healthy as well, reducing the need for excessive licking.
Reviewers say the product reduces hairballs and makes a visible difference when it comes to coat quality.
5. Vetriscience Vetra-Mega Probiotic Digestive Capsules
Best Cat Probiotic
If your cat has issues in the litterbox, this is the supplement for them. It's another product by VetriSCIENCE Laboratories and it's made by veterinarians.
The Vetriscience Vetra-Mega Probiotic Digestive Health Dog and Cat Capsules will help regulate digestion and are a great idea when switching food, traveling, or introducing another pet into the house – all stressful events for your kitty that can affect their digestion.
Keep in mind that cats get half the capsule while dogs get a whole one, but it's approved for both canine and feline use. Great for multi-pet households!
6. Nutramax Cosequin Capsules Joint Health Supplements
Best Joint Supplement for Older Cats
Cats are living longer than ever, thanks to technology and owners who do things like give them vitamins. But old age can bring joint pain and arthritis for pets, making it harder for them to move and play.
Vets suggest starting adult cats on some sort of joint supplement around five or six years old, to help them stay feeling like themselves.
We like the Nutramax Cosequin Capsules Joint Health Supplements, and we're not the only ones. This product has over 500 reviews and is rated more than four stars.
Reviews say that the products work fast and that they can make even ancient cats feel as good as new!
7. Vetoquinol Zylkene Behavior Support Capsules
Behavioral Supplements for Cats and Small Dogs
If you have a cat that is especially difficult or is having a hard time adjusting (kindly) to a new playmate, check out these behavioral support supplements.
They claim to calm your cat or small dog without making them sleepy as most "calming" supplements do. They're strong enough for single-use visits, like going to the vet or traveling, but not too strong short-term continued use.
The product is rated 4 out of 5 stars and reviewers say they really help cut down on in-carrier screaming in the car.
Even if your cat doesn't have any behavior problems now, these are some of the best vitamins for cats to have on hand for when stressful situations arise!
The Mineral That Sparked the Discussion: Taurine
A while ago there was a large number of cats dying and no one knew why. After veterinarians studied the phenomenon, it turns out that these cats were missing an essential nutrient: taurine. It's an amino acid found in brains and bugs that cats need to survive.
After that, people started paying more attention to the quality and nutrients in their cat's food. Now you'd be hard-pressed to find store-bought food without it.
What Other Nutrients Does Your Cat Need?
Protein is an essential building block for all organisms. Even the most tin microorganisms need some sort of protein source to survive, and your cat is no different.
Protein supplies your cat's bodies with essential amino acids, including Taurine (depending on the source). It also helps them produce enzymes, hormones, and gives them energy so they can keep being the feline you know and love.
And whether you eat meat or not, the bulk of the research shows that cats do best when they get their protein from meat sources. Their systems aren't made or optimized for plant protein and in the wild, that would be a cat's last-ditch effort.
Cats have a very high percentage need of protein in their diet – so make sure the food you're buying is protein-packed. Their individual needs will vary depending on their size, activity level, and the bioavailability of protein in their food source.
Fats
You've probably seen pictures or depictions of cats drinking from bowls of milk. This is a myth – dairy milk is bad for cats, it will give them diarrhea, and no one wants that. But the people who show cats drinking milk are right about one thing – cats need a source of healthy fat.
Fat gets a bad name, but it's essential for whole-body health. Fats help cells function, give your kitty energy, and give their coat that glossy shine.
Some vitamins and nutrients are fat-soluble, which means they'll absorb and be used in the body better when your cat has the right kind of fat in their diet.
Of course, it's possible for your cat to have too much fat in their diet, just like it is for humans. When you're shopping for cat food (or cat vitamins) make sure there's some sort of omega-3, CLA, GL, or LA in the ingredients.
Vitamins and Minerals
The last group of nutrients your cat needs are vitamins and minerals. Minerals are things like iron, magnesiu8m, zinc, potassium – things humans get from eating a whole-food-based diet.
Since most cats get dry food and some wet food, manufacturers have to add these things to their food. If you don't see them on the packaging (especially in cheaper cat food), then you'll need to provide them to your cat in the form of a vitamin.
The same is true for things like Vitamin A, D, K, C, and B. Cats can't absorb most of these vitamins if they're from plant sources, so even if they're in your kitty's food, make sure you read the ingredients!
Why Feed Your Cat a Vitamin?
Just like humans, it's hard to find the perfect combination of food for your cat that delivers all the vitamins, nutrients, and minerals they need. And since most of the time excess vitamins/minerals just get peed out, it's better to have more rather than less in their diet.
We've got 7 suggestions of different cat vitamins below – but call your vet and make sure they approve of you adding it to your cat's diet before you hit purchase – especially if your cat is on any medication.
Different medications may make some vitamins unsafe for cats while making others even more necessary to help treat certain conditions!