There's nothing worse than seeing your pet in distress. Fortunately, there's a natural OTC solution that's both safe and effective for a variety of common issues. And it's got the research to back it up. We're talking, of course, about CBD oil for dogs.
CBD use for dogs is on the rise. This is partially due to the growing acceptance of medicinal Cannabis and the grassroots legalization effort surrounding it. But the greater truth is this: Cannabis and its chemical compounds like CBD are clinically proven to promote healing and overall wellbeing in animals.
In fact, there's a CBD oil solution for a number of issues that us pet owners face on a regular basis. Is your dog experiencing pain or elevated stress levels? Give him a CBD treat and watch him perk back up. Maybe your pup isn't eating? Give her a CBD pill and rejoice at how quickly her appetite returns. This all-natural and wholesome solution is non-addictive and doesn't product any 'highs' or changes in mood. Aside, of course, from a happier state of being.
We're all pet lovers here, and we all care about the wellbeing of our loyal friends. To that end, we've written this article about CBD oil for dogs to demonstrate the drug's efficacy and ability to improve your pet's health. We'll take a look at the science, the current CBD marketplace, and the future of the industry as a whole. Ready to begin? Let's see if CBD oil is right for you and your pet.
What is CBD Oil?
CBD, also known as cannabidiol, is a chemical compound that comes from the cannabis plant. The cannabis plant originates from Central Asia, and it actually contains over 100 active chemicals known as phytocannabinoids. Some are psychoactive, like THC, while others are non-psychotropic, like CBD. This means that there is no "high" involved in CBD use, save for mild somatic effects that often have a pleasant feeling associated with them.
Cannabis and CBD have been used medicinally for thousands of years, and for a variety of purposes. Today, the plant is commonly used to treat the following in humans and animals:
Relieve pain
Reduce depression & anxiety
Boost appetite
Prevent diseases
& much more
But that's just the tip of the iceberg! As the plant continues to gain legal status in states across the country, its popularity continues to surge. This, in turn, increases the pressure on institutions to conduct more research, and exciting new findings are pouring from reputable scientific journals on a regular basis.
How Does CBD Oil Work?
CBD oil works in a variety of ways, and it's used to treat a variety of conditions. While we don't know exactly how it functions in the body, there is a lot that we do know.
Cannabinoids act on the endocannabinoid system in cells that regulate neurotransmitter release within the brain. These cells are responsible for a host of functions within the central and peripheral nervous systems, including those associated with overall balance and wellbeing. CBD alters the release of these neurotransmitters in a variety of ways, often increasing the effects of helpful ones while protecting the body from those associated with pain.
A large number of mammals share a similar endocannabinoid system within their brains. This means that CBD can prove medically beneficial to a range of animals. One area of particular interest for cannabis researchers has been with a pet we all know and love. Namely, dogs.
CBD for Dogs: Research & Studies
The internet is fraught with claims of this and that, and it can be hard to uncover the truth. To help achieve clarity, we've assembled a list of scholarly articles related to CBD oil for dogs. The findings are impressive, to say the least.
How to Use CBD Oil for Dogs
How does CBD affect dogs, in particular? As the above studies indicate, CBD affects dogs in a similar fashion to humans. That is, it works to relieve pain and increase overall wellbeing by altering the endocannabinoid system. These effects, in turn, proliferate throughout the body via the central and peripheral nervous systems.
But the question remains: how can we use CBD to improve our pup's health?
Though there are many different types of CBD oil products out there, the most common is the CBD oil tincture. It's pure, simple, and effective. Moreover, it's easy to administer, and you get to pick the exact dosage. For these reasons, we highly recommend it as a great starting point. Check out the guide below to see just how easy it is to get started:
1. Hold the bottle and fill the dropper with oil. A common rule of thumb is 0.25mg of CBD tincture per pound of weight, but be sure to consult the official dosing guide. Remove the dropper and prepare for administration.
2. If your dog is mild-tempered, or if you've chosen a flavored oil, consider squeezing it straight into your pup's mouth. Another great option is to mix the CBD oil with food or dab in onto a treat for easy consumption. Our favorite solution? Mix it with a spoonful of peanut butter for a tasty treat.
3. Depending on the needs of your pet, you may need to repeat the process multiple times a day. Again, consult with the official dosing guide and consult your vet with any questions.
Types of CBD Oils for Dogs
Tinctures are an excellent choice for first timers and veterans alike, but there are tons of different CBD products you can try. The most popular treatments for dogs include:
Tinctures
Topical ointments
Food & treats
Pills
Much like the human variants, these products are all infused with the isolated CBD compound to provide the benefits and relief associated with non-psychotropic Cannabis use. The result? A tail wag and a big puppy kiss!
Choosing the Best CBD Oil for Dogs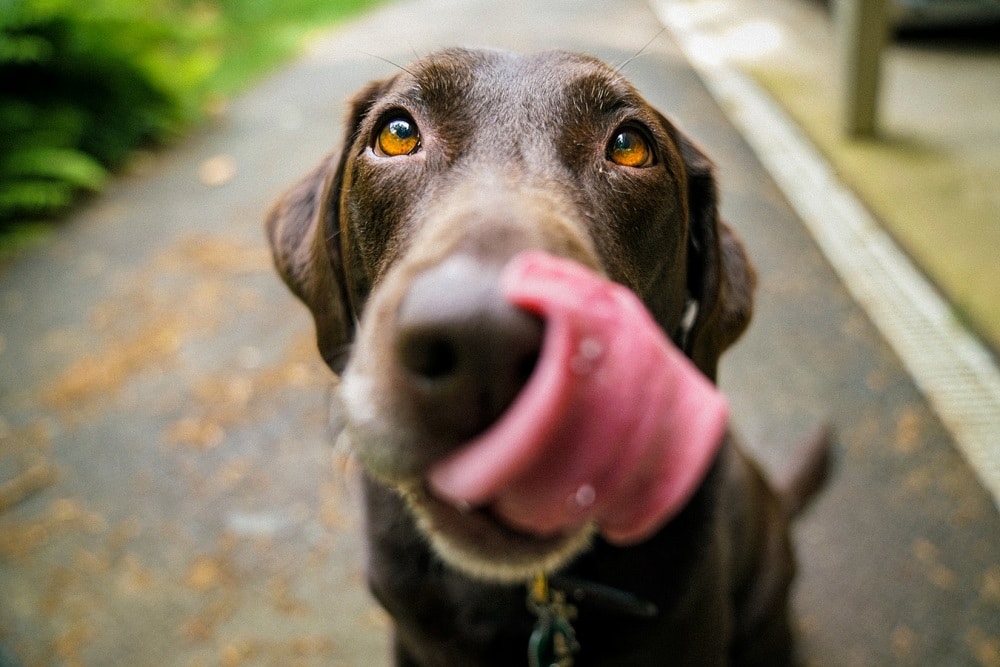 As the industry expands, so too does the number of products on the market. And that makes choosing the best option for your pet more difficult than ever. To minimize the risk and hassle, we've narrowed down some of the best ways to ensure you're getting quality medication:
1. Look for a CBD brand that has their formulas independently tested.
All of the top CBD pet brands have their formulas independently tested at professional labs to ensure quality control and safety. Check their manufacturing process and inspect their websites to see the story for yourself.
2. Check their references and reviews.
The best CBD pet brands are heavily involved in the community, and you can find information about them from reputable sites and zines across the web. Moreover, many are headed by vets and doctors that are continuously investing in research and new studies. Be sure to check these out, and carefully inspect consumer reviews for a more accurate assessment of a product's benefits.
3. Ask the decision maker!
As long as you've done your research and picked one of the best CBD pet brands, you should be in clear. Consider buying a trial size to see how your dog reacts. If they appear to be experiencing less pain or stress, excellent work. And if it's not the right fit? You can always count on your four-legged friend to let you know!
Still not convinced? Contact your favorite brand's customer support with any questions or concerns.
Risks Associated with CBD for Dogs
While Cannabis and CBD are far safer than most medications, there are still some risks involved with use. While much of the worry can be mitigated by choosing a reputable brand with quality-sourced chemical compounds and proven consumer ratings, the fact remains– we're still learning about CBD.
This study by the AHVMA documents the potential dangers and adverse effects associated with cannabidiol in dogs. While the consensus is that there's minimal risk in treating dogs with CBD, some do indeed experience diarrhea and higher levels of serum ALP. Neither of these conditions are overwhelmingly threatening, but it does highlight the potential for negative side effects.
Our recommendation? Stay up to date on the latest research and studies, and be sure to monitor your pet for any side effects. In addition, remember to consult with your veterinarian for the most up-to-date information on the subject.
CBD Oil for Dogs: Looking Ahead
The landscape is rapidly changing, and it's only going to get crazier as CBD use expands. This makes it especially important to stay on top of any changes, as you must be sure to treat your pets with the safest and most effective products possible.
To that end, we'll continue to update this page with any new information. Additionally, you can expect similar articles in the future. As always, the team here at Pet Territory wishes you and your pup the utmost health & happiness!