Your feline friend will definitely appreciate the best cat litter box on the market. Cats are highly intelligent beings and require a lot of space to roam around throughout the day. It's important to keep litter boxes nearby so your cat feels comfortable. Shopping around for the best cat litter boxes can be challenging. Want to know the top seven cat litter box options for your home?
Keep reading to find out what is the best cat litter box on the market!
We hope you and your pets love the products we recommend! The products discussed on our site were independently chosen by our editors. At no extra cost to you, Pet Territory may collect a share of sales if you buy something through the links on our pages.
7 Best Cat Litter Boxes in 2021
Check out our picks for the best cat litter boxes for your feline friends.
Best Cat Litter Box for Odor Control
If you are someone who is often out of the house for hours on end, you may need to invest in a self-washing and self-flushing cat box. This self-cleaning cat litter box requires a hook up to cold water in order to work. The purpose of this litter box is to take away all of the hard work for you. You'll never have to touch or carry pounds of cat litter up the stairs anymore.
The assembly of this product is straightforward. You need to snap the pieces into place and read the manual for proper installation.
The CatGenie will wait approximately 10 minutes after your cat is finished before it begins cleaning up to cycle. This process of delaying the time it takes to start cleaning up after your cat is specially designed to give your cat time to get out of the cat litter box so he or she feels safe.
The special washable granules are great for eliminating the struggle of cleaning up after your cat a few times a day. You will be amazed by this cat box robot as soon as you set it up.
Some Disadvantages Include:
The litter may end up getting on the floor during the cleaning process
Your cat could take time getting used to the new system
Cats may not like the sounds the machine makes to clean up
The machine may not filter out all of the feces smell
The scooper may not get all of the feces cleaned up and may leave behind so you need to run it again
Best Rated Cat Litter Box
If you are looking to upgrade your current cat litter box situation, choosing the Modkat Flip Litter Box with Scoop and Reusable Liner has a seamless design to stop leaks and scatter. This cat litter box has a reusable tarp liner that makes dumping out the litter easy. If you are sick of looking at litter boxes that are not friendly with your home decor, try the Modkat.
The sleek and modern all-white design embodies a stylish approach to the usual clunky litter boxes. What's better than a happy cat and a litter box that's easy on the eyes?
How about the best rated cat litter box on the market.
Disadvantages of the Modkat:
You must continue purchasing new tarps for this cat litter box
The cost is priced at over $70 which makes it on the expensive side
Best Litter Box for Large Cats
Your cat will give this next litter box two paws up.
The LitterMaid LM980 Mega Self-Cleaning Litter Box will help you imagine a world where you can give your cat clean litter every single day without disrupting your own busy schedule. This cat litter box has a wide space for your cat to feel comfortable. The high walls are also ideal for all cats.
Once the cleaning begins, the automatic rake will scoop waste into the front of the box where you can take it away on your own time. The waste will stay put in the waste receptacle until it is time to replace it.
Disadvantages of the LitterMaid:
The motor sometimes struggles to get all of the waste clumps out
The device can be noisy
Some people say it doesn't clean thoroughly
Best Litter Box for Two Cats
Another excellent option for the best litter box for multiple cats is the Omega Paw Elite Self Cleaning Roll 'n Clean Litter Box. This litter box has chrome accent so it looks great if you have a modern home and multiple cats.
Reviewers say you can throw away your scoop after you purchase this top-rated self-cleaning machine. Your cat will love the privacy this machine offers, too. The hooded roof allows your cats to feel protected and ready to do their businesses.
Disadvantages of the Omega Paw Elite:
The litter box needs better latches to prevent leaks
Some litter spills over the sides when pouring out the clumps
Best Litter Box for Multiple Cats
You need a game-changing device to help you clean up after your cat makes a smelly poo. If you are a pet owner who is looking for superb odor control features, you should consider purchasing the highly rated closed litter box, Catit Jumbo Hooded Cat Litter Pan.
Litter is retained inside the litter box while the carbon filter works hard to eliminate nasty odors.
These litter boxes are also ideal for large cats. Three average sized cats could also fit nicely inside the Catit Jumbo Litter Pan, so if you own many cuddly felines, this litter box is the best cat litter box for multiple cats.
Disadvantages of the Catit Jumbo Hooded Cat Litter Pan:
The door flap isn't easy to open
The bottom of this pan has cracked for a few pet owners
The jumbo size of this pan means it will take up a lot of space in your home
The closed lid feature of the Van Ness Sifting Cat Pan and Litter Box makes it odor-fighting all day long. What's great about this litter box is the odor-controlled door. Your cat can step in and out of this box as he pleases and you'll forget about the unsightly odor because of it!
The large or extra-giant options are available on Amazon for our pick as the best cat litter box for odor control. This super efficient tool will change the way you handle your cat's business. People are actually falling in love with the design of this cat litter box.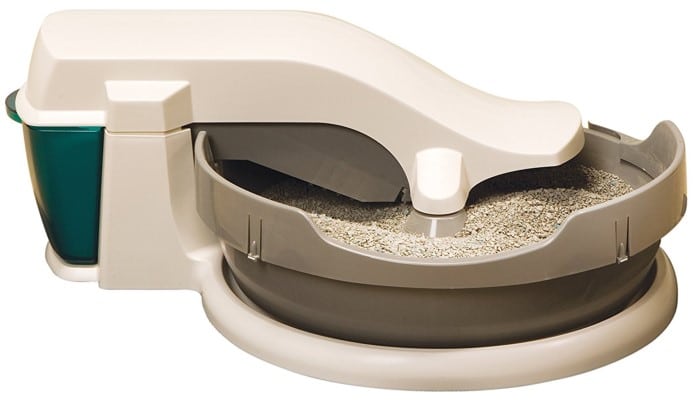 One final pick for the best cat litter boxes for your home is the PetSafe Automatic Litter Box. The system does all the work for you. Spend time with your precious cat and forget worrying about cleaning out her box.
Make sure to place the new litter box close to her old one so she can be acclimated to it over time.
Related Reading