Welcome to our article featuring the best carpet cleaner for pets and the stains they leave behind!
Let's be honest – having a cat or dog urine on your carpet stinks. Figuratively and literally. You love your animal to bits, but the stench of their urine on your carpets is something you and your home can really do without. You even avoid having your friends over, so they don't judge you on your lack of training your furry friend. After all, it's not Fluffy's fault – when you gotta go, you gotta go! That's not even mentioning the constant layer of thick hair that has formed on your carpets. If you wanted a fur rug, you'd go out and buy one.
To really get the stench, stain, hair, and embarrassment out of your carpets, you're better off investing in a long-term home-solution that will work for years to come. With so many options out there, we've rounded up some of the best carpet cleaners for pets on the market.
How to Choose the Best Carpet Cleaner for Pet Stains
Up first is our comparison table. You'll then find a section with a closer look at our top 10 best carpet cleaners for pets picks. We've done the shopping for you, and have but all of the best options in an easy to browse shopping guide. Read through our portable carpet cleaner reviews, and see if one of them fits your needs as a pet owner.
Before you make your final decision, you can read through our sections below that detail some of the things you should look for in a carpet cleaner for pets. This might help you narrow down what features and benefits are most valuable to you.
10 Best Pet Stain Carpet Cleaner Machines: Comparison Table
In this table, we have the 10 Best Carpet Cleaner Machines that will knock out pet stain, odors, fur, and more. We've put them in order of price ascending, and the review section below reflects this same order to make it easy for you to browse through.
If you're on mobile or a smaller screen click the green plus signs to expand the table and view more information about each of the best carpet cleaners for pets.
A Closer Look at the Top 10 Best Carpet Cleaner for Pets
Now that you know what to look for, let's take a look at our top 10 favorite carpet cleaners:
1. Bissell Pet Stain Eraser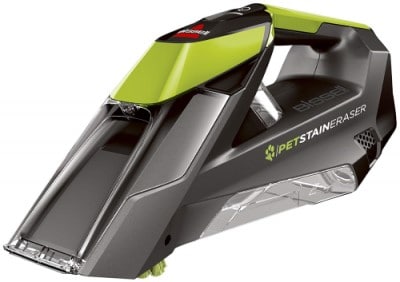 Cleaning Path: 3″
Capacity: 8 oz.
Weight: 4.6 lbs
If you're looking for the best portable carpet cleaner for pet stains look no further. The Pet Stain Eraser from Bissell is no bigger than a typical handheld vacuum and can easily be used on everything from carpet to furniture and curtains. The convenience of size partnered with carpet cleaner solution gives you a powerful spot clean that makes having a pet so much less stressful.
2.

Hoover PowerDash Pet Carpet Cleaner
Cleaning Path: 10″
Capacity: 0.5 Gallons
Weight: 13 lbs
This option from Hoover is a great budget saver if you're looking for an upright carpet cleaner machine for pet stains that won't take up too much room of your storage. One of the unique parts about this affordable machine is that it uses HeatForce technology, which is Trademarked by Hoover and dries your carpet much faster. If you want you can even purchase this model with the recommended carpet cleaning solution as a bundled set.
3. Rug Doctor Portable Spot Cleaner
Cleaning Path: 4.5″
Capacity: 0.5 Gallon
Weight: 15 lbs
If you're looking for a portable spot cleaner that fellow consumers swear by, the Rug Doctor Portable Spot Cleaner is a highly rated appliance and a great option for pet owners. The handle is retractable, and the hose is more than 5 feet long, giving you the range you need to clean with ease. It's gentle enough to use every day, but you can also be sure that you won't need to be using it multiple times in the same spot in order to extract pet stains.
4. Bissell SpotClean PetPro Portable Carpet Cleaner
Cleaning Path: 6″ and 3″
Capacity: 0.75 Gallons
Weight: 13.2 lbs
This Bissell PetPro cleaner is arguably the best spot carpet cleaner for pet stains. This nifty machine is as powerful as it is portable. Easy to carry around, its greatest feature is its built-in Professional Spot Cleaner, which removes the toughest stains from carpets and upholstery in a jiffy. It is corded, but the long hose will help you reach multiple areas at once.
Another plus about this machine is that a portion of every sale goes towards the Bissell Pet Foundation. This is a beautiful organization that supports shelters and helps save homeless pets.
5. Aqua Pro Vac Portable Carpet Cleaning Machine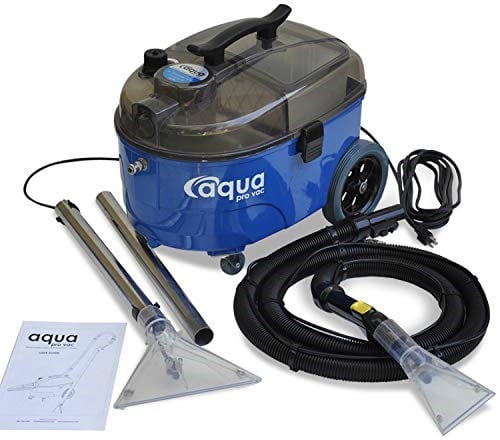 Cleaning Path: Depends on Attachment
Capacity: 1.5 Gallon
Weight: 22 lbs
Similar to the Bissell BigGreen we've also reviewed, Aqua Pro Vac also makes a great professional carpet cleaner that's a little more portable, but still at a reasonable price. It has wheels and casters, making it ideal for moving from room to room for spot cleaning, instead of having to dedicate time to complete floor spaces.
6. Hoover Power Scrub Elite Pet Carpet Cleaner

Cleaning Path: 12″
Capacity: 1 Gallon
Weight: 18.1 lbs
With its own patented Spin Brush Technology, this impressive carpet cleaner has five 360 degrees counter-rotating brush-heads. The antimicrobial brushes gently wash and scrub your carpets from all angles, and even prevents future odor and bacteria growth. The best part? The brush head is easily removable to give it a thorough cleaning.
7. Bissell DeepClean Premier Pet Carpet Cleaner
Best Budget Pet Cleaner
Cleaning Path: 12″
Capacity: 1.25 Gallon
Weight: 25 lbs
Bissell is one of the top brands in terms of the best carpet cleaner for pets out there. Continually revolutionizing their machines, they have designed this machine to include Heatwave Technology. When you add warm water to the carpet cleaner, it maintains the temperature throughout the cleaning process. And it has 12 rows of dual rotating power brushes. Did we forget to mention it has a 3-year warranty?
8. Rug Doctor Deep Carpet Cleaner
Cleaning Path: 12″
Capacity: 1 Gallon
Weight: 37 lbs
Calling the Rug Doctor! While this machine is a tad bit pricier, you're paying for the powerful punch it packs in terms of suction. If that doesn't do the trick, flick the switch on the Super Boost Spray function. This revolutionary feature allows you to customize your clean to suit high-traffic and heavily soiled areas.
9. Rug Doctor Mighty Pro X3 Pet Pack
Cleaning Path: 10.8″
Capacity: 2 Gallon
Weight: 40 lbs
The Rug Doctor's Mighty Pro X3 is perfect for areas larger than the average home. Though a bit pricier than our other favorites, this powerful machine has two separate water tanks and a Vibrating Cleaning Brush to lift even the most stubborn of dirt from the carpet. By extracting water from the carpet, it leaves your carpets near-dry and spotless. Goodbye pet stain!
10. Bissell BigGreen Commercial Deep Cleaning Machine
Cleaning Path: 10″
Capacity: 1.75 Gallon
Weight: 42 lbs
If you own a pet-friendly business, hotel, or vacation rental, you might want to invest in something more heavy-duty to clean up after your four-legged guests! For a commercial machine, the Bissell BigGreen is still easy to use for beginners who are in need of a strong carpet cleaner for pet stains, odor, and for keeping things fresh. It's got dual high capacity tanks, and a large cleaning path making it easy to get a lot done without having to stop and refill or go over the same spot repeatedly.
Benefits of Carpet Cleaner for Pets
Now that we've spilled on the beans on our picks for the best carpet cleaner machine for pet stains, let's take a look at why pet carpet cleaners are your new best friend (after your actual pet of course).
They're made for the job. If you've tried using a traditional vacuum cleaner to suck up hair, you'll know that it doesn't work quite as you want it to. The hair gets tangled into the brush at the end of the vacuum cleaner, or is actually driven more into your carpet (have fun getting that out). Carpet cleaner machines for pets are fitted with silicon brushes so that every last hair is sucked up, not tangled in mess.
They've got oomph. Packing quite the punch, the suction system on these machines are a lot more powerful than your average hoover. They suck up hair (and any other nasty business) like there's no tomorrow, and neatly store it in a nice little container for you to empty out later. Nifty!
No more scrubbing. We've all been there- on our knees, sweating, swearing and scrubbing, while pouring copious amounts of stain removing chemicals on our brand new carpet. Making this dirty job a much cleaner and faster one, certain pet carpet cleaner machines come with special nozzles and attachments specifically designed to thoroughly clean out pet stains. They suck, rinse, and wash any stains with a warm water solution and special tiny brushes.
What to Consider Before Purchasing
Before you go out and buy your new carpet cleaner for pets, take a look at our list of things to consider before investing:
Maneuverability: If you need to really get into some tiny spaces, opt for a carpet cleaner with a canister vacuum. These types of vacuum cleaners can move around with great ease and are designed to reach every corner of your home.
Weight: If you have a large home and your pet is free to roam, rather go for a lighter machine that is easy for you to carry around. A lighter compact pet carpet cleaner will also save you some pain going up and down the stairs, so take that into consideration.
Capacity: One dog, two dogs, three dogs, four? The more dogs you have, the more hair you'll have to deal with… and the more capacity your carpet cleaning needs. Factor in how often you're planning to clear the garbage bag as well. If you're lucky enough to have a breed that doesn't shed, count your lucky stars.
Motor: The heavier your carpeting, the heavier you should go in terms of motor power. A really powerful motor is great for sucking up those heavier materials like mud, feces, and vomit. While compact cleaners are lighter and easier to maneuver, they don't have the same power as their full-sized companions.