A wise cat owner knows that to keep the peace if their house, they must find a litter their cat approves us. If unsuccessful, the consequences can be dire. We aim to offer aid in this critical mission. Below, you'll find our top 7 picks for the best cat litter products currently available.
7 Best Cat Litter Products in 2021
Here is our list of the 7 best cat litter options of the year. We've written up detailed information on a few different brands and types of cat litter to help steer you in the right direction!
Best Cat Litter Overall
Dr. Elsey's Precious Cat is hands down the best cat litter for odor control. And best of all, it doesn't use perfumes or deodorants to achieve odor control. But Dr. Elsey's is also runner up for the best clumping cat litter. It's all natural and even prevents moisture from reaching the bottom of the litter box. I
t's idea for mechanical litter boxes as well. And best of all, it's 99.9% dust-free. Lastly, it's reasonably priced at around $17 for a 40-pound bag. This cat litter is perfect for homes and even small apartments. It's even good for multiple cats.
Best Clumping Cat Litter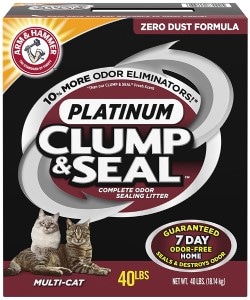 Those of us with more than one cat understands the struggles of keeping their litter box clean. Even cleaning it out twice a day sometimes isn't enough to prevent odors from leaking out. That's why Arm & Hammer's Clump and Seal is so great. It dramatically reduces odors for up to 7 days, which is part of their guarantee. This easily boosts it to the best clumping cat litter on our list.
It is also formulated to create hard clumps to make clean-up easier. The baking soda used in their formula further reduces odors and ensures the litter is nearly 100% dust-free. Be aware that while this is the best litter for cats who share a box, it's not unscented. Not everyone enjoys the strong "clean" smell.
Best Natural Cat Litter
Many articles feature Feline Pine Original Litter on their cat litter reviews because it doesn't use any dangerous chemicals or silica dust. This is good cat litter for odor control. It's formulated to leave a fresh smell behind while neutralizing any strong odors. The pellets absorb cat urine before it starts smelling bad.
However, not all cats enjoy the pellets. But most cat owners love the pellets because it helps prevent cat litter from getting tracked all over their homes. It's also easy to maintain the litter box, and is the best natural cat litter on the market.
Best Dust Free Cat Litter
This is the best kitty litter for anyone who struggles with how extremely heavy cat litter usually is. Purina Tidy Cats LightWeight litter has now made it easier for us to properly care for our cats. This cat litter is 50% lighter than any other brand. And they merged a trusted cat brand together with a trusted brand known for eliminating odors.
The Glade Tough Odor Solutions fights strong smells. However, if you are sensitive to scents, this might be too powerful for you. Also, your cats tend to smell like you sprayed them with Glade after using the box.
However, with their Ammonia Blocker preventing ammonia odors from forming for at least two weeks, you might not care that your cat smells like an air freshener. Especially if you're looking for the best cat litter for smell.
This is a good clumping litter as well. It forms strong, tight clumps for an easy clean-up. You'll also enjoy this litter being 99.6% dust-free, making it the best dust free cat litter, as well as the best odor eliminating cat litter.
Best Cat Litter for Odor
Most cat litter reviews forget to mention whether the cat litter gets tracked through the house or not. For a cat owner, this is huge because it's a huge pain to clean it up. Blue Buffalo Naturally Fresh won't stick to your cat's paws. And because it's 100% naturally and environmentally-friendly, you won't have to worry about silica dust.
In fact, this litter is nearly duty-free. And it's so absorbent that one bag is equal to three bags of other leading brands of clay litter. This clay litter is also biodegradable and one of the few on the market that is. You can dispose of this litter wherever and however you want. And its walnut shells composition will make it last a lot longer than other brands. The natural scent is a great solution for the best cat litter for odor
Best Unscented Cat Litter
Purina Yesterday's News Unscented litter is made from 100% recycled paper. Meaning that it's both gentle and highly absorbent while being safe for the environment and your cat. While some worry that it's not the best clumping cat litter, it's still easy to dump and change your litter box. And it's designed for low-tracking with no small particles.
This litter is actually three times more absorbent than clay litter. And because you don't have to deal with clumps, you won't have to scrape the bottom of your box to get those clumps that seem to have the same consistency as cement. Cats with respiratory issues, who are elderly, sick, or have skin allergies will love this brand of litter.
We give this the best unscented cat litter for odor control award!
Best Cat Litter for Multiple Cats
With a name like World's Best Cat Litter, you have to assume they will stand up to their name. And when it comes to the best clumping cat litter, they aren't kidding. They use a whole-kernel corn composition which helps simplify the cleaning process. And it's flushable and septic safe.
However, to help maintain their outstanding odor control, you should store this litter in a sealed bag or bin. Some people feel this extra step is worth it because of the lovely natural wood fiber fragrance that helps remove smelly odors efficiently. This cat litter is also 99% dust-free and is safe for pets, humans, and the environment.
What to Look for in Quality Cat Litter
One of the best things about caring for cats is that you don't have to take them out to relieve themselves. They can do it inside whenever they want. Except, one of the worst things about owning a cat is dealing with their kitty litter box. Even if you clean it regularly, it's still a smelly, gross chore. But when you have the best cat litter, life gets a little easier. The right litter means less odor when your cats have used their litter box.
Good litter also produces little to no dust. And good litter makes cleaning up after your cats much easier because it clumps properly. See some of our related articles below if you're having any troubles keeping the cat litter area clean!
Related Reading