Looking for the best flea treatment for dogs is something that every responsible dog owner has to do at some point. There are at least five species of fleas, and infestation rates can be as high as 24%! This can make finding the most effective course of action a little complicated. That's where we come in.
In this article we're going to look at the different kinds of flea treatments, and discuss their benefits. Most importantly, we've rounded up 10 of the best flea treatment for dogs and summarized them to make shopping easy for you.
Top 10 Best Flea Treatment for Dogs
In true Pet Territory fashion, we've rounded up the best flea and tick treatment for dogs. In this list we've included a variety of forms of treatments:
Oral Tablets
Chews
Topical
Sprays
Collars
What is the best flea and tick treatment for dogs? Let's take a closer look.
This is a great all-around flea treatment for your dog. If your dog's itching like crazy, this convenient spray bottle should offer them some quick and easy relief.
This efficient spray targets the full spectrum of pests that might've taken up residence on your pooch's fur. If your dog's bothered by adult fleas, ticks, flea larvae, or eggs, this spray should make short work of them.
As an added bonus, this spray will also repel mosquitos.
These tablets are a great option if you need quick relief for your pet. They're very effective for your dog as they'll start working within just 30 minutes.
Note that these tablets will only kill adult fleas, so in order to completely wipe out an infestation, you may need to combine these with other products. Another important thing is to make sure you get the tablets for the correct weight class.
Frontline Plus promises to rid your dog of an infestation. When you use the product as directed, it offers effective flea and tick removal for 30 days.
The product contains fipronil, which will kill adult fleas and ticks, and also (S)-methoprene, which will take out the eggs and larvae.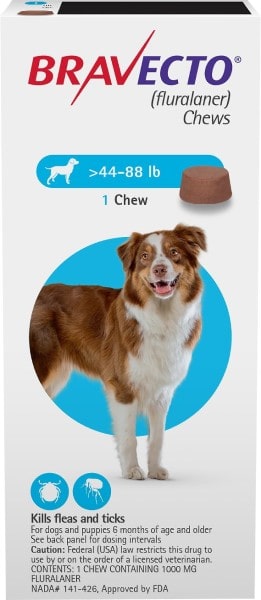 The big problem with a lot of these products is your dog simply refuses to cooperate. It doesn't matter how effective a spray is if your dog won't stand still long enough for you to use it. We think this is the best oral flea treatment for dogs because it lasts for 6 months.
Bravecto Chews for Dogs solves this issue. The treatment comes in the form of a flavored dog chew. Your pooch won't even know it's medicine!
This product doesn't claim to kill fleas or ticks. Instead, it repels them. It's one of the best natural flea treatment for dogs, if you'd like to take a more gentle approach.
Using a safe mixture of natural vitamins, Flea Away covers up the smell of CO2 emanating from your dog. This smell is what triggers fleas and ticks to bite, causing your dog to itch.
When the fleas are no longer biting, they won't become engorged and will be easy to brush right off.
This is another great treatment to consider if your dog is not the type to sit still for a treatment. With a beef flavored chewable tablet, your dog is sure to love taking this medicine.
For year-round protection against fleas and ticks, you just need to give your pet a tablet once a month.
Flea and tick medicated shampoos are a great way to eliminate ticks and fleas on a tight budget. Not only will this formula kill adult ticks and lice, but it'll also kill any eggs or larvae.
Another advantage of this product is that it doesn't smell unpleasant to humans. Shampoos can be some of the best over the counter flea treatment for dogs.
Fleas and ticks don't just get into the fur of your pet; they get into your carpet and furniture too. If you want to truly eradicate an infestation, you need to get rid of them from the whole house.
Simply spray this product on your carpets and furniture. It'll kill the ticks and fleas without leaving stains or marks.
Most of the treatment options listed on this page use artificial chemicals. If you want something a little more natural, you could consider this product.
Vet's Best Dog Flea and Tick Home Spray uses a unique blend of essential oils and plant-based ingredients. The gentle ingredients make this our pick for the best topical flea treatment for dogs.
This product offers great flea and tick repellant with an innovative delivery system. All you need to do is put the collar on your dog.
It has a water-resistant formula, so if your dog wants to take a dip, there's no need to remove the collar.
Why Does My Dog Need Flea Treatment?
Although not deadly, fleas can prove to be a real nuisance for your furry friends. That's why the best flea treatment for dogs are necessary to rid yourself completely of them.
Have you noticed your dog scratching more lately? Have you confirmed that your pooch has fleas or ticks? Then you need to use some kind of flea and tick treatment right away.
Preventative Care
Even if your dog stays mostly indoors and isn't exposed to other animals, they can easily pick up fleas in a variety of ways. You can even track them into your home on your shoes and pants. Fleas are known to be versatile hitchhikers.
Flea allergies are common amongst dogs, and retroactive treatment of fleas is much more complicated. Sometimes it can involve the use of steroids and antibiotics. To have a more gentle approach to your dog's healthcare, we urge you to use flea medicine as a preventative form of care.
3 Things You Need to Know Before Buying the Best Flea Treatment for Dogs
Before you commit to a purchase, here are three key things you need to know first.
1. Consider Your Dog's Preference
When you order any kind of flea treatment, you absolutely need to take your dog's personality into account. Some dogs might be easily upset by certain kinds of treatment.
For instance, there's no point in buying a shampoo-based treatment if your dog absolutely refuses to bathe. Also, there are some dogs who have the uncanny ability to always know when you're trying to slip them a pill. It doesn't matter how much food you conceal it in, they still manage to eat around it.
When choosing a flea and tick treatment, make sure you pick something your dog will cooperate with. For dogs that are more difficult, you might consider flea prevention collars or flavored tablets.
Unfortunately, you might have to try multiple products before you manage to find something that works for you and your dog.
2. Consider Your Dog's Size
Don't make the mistake of buying just any treatment product. Most of these flea and tick products need to be matched up to the size of your dog.
If you use the best flea treatment for small dogs on a larger breed- it probably won't be effective, and you'll have wasted your money. On the other hand, if you use a product intended for a big dog on a small dog, it might be too strong for them and could cause irritation.
Whenever you order flea and tick treatment products, make sure you carefully read the full specifications. A lot of these treatments don't come cheap. The last thing you want to do is order a second item because you initially got the wrong one.
3. Is It Made Specifically For Dogs?
In some situations, medications designed for cats and dogs are essentially interchangeable. However, when it comes to flea and tick treatment, this is definitely not the case!
Under no circumstances should you ever use a flea and tick product designed for cats on a dog or vice versa. This is because chemicals used in the formulas for cats could actually be toxic for your dog.
Generally, flea and tick removal items should clearly have a picture of a dog or cat on the box to prevent any confusion. But make sure you examine the treatment carefully before you buy.
Read the Instructions
Whenever you look at reviews for flea and tick treatments, there are often people claiming the product didn't work as advertised. Unfortunately, a lot of people have this issue because they didn't read the instructions properly. Or sometimes, they don't even read them at all.
With these kinds of products, a "common sense" approach often isn't enough. Make sure you avoid any expensive mistakes and that your dog doesn't suffer any longer than necessary by reading the instructions provided and following them to the letter.
Buy the Right Type
Flea and tick treatments are not all the same. Some are made to be an all-in-one solution whereas others are meant to be used for a specific purpose.
For example, some of these brands are only used for killing eggs and larvae and others are only used for killing adult fleas and ticks. Often, people are disappointed in a product because they didn't buy the correct one to suit their dog's needs.
Consider the Species
There are many different types of fleas and ticks. Since they're such a tiny species, the potential for variation is huge.
Because of this factor, certain brands might be more effective in a certain geographic area. You should consult with your dog's veterinarian about which brands are the best. A certain brand might work incredibly well against black-legged ticks but then do next to nothing against American dog ticks.
Be on the lookout for products labeled as "broad spectrum." These should be able to handle a wide variety of flea and tick species.
Know the Warning Signs
As a dog owner, you should be able to recognize the warning signs that your furry friend is suffering from fleas or ticks. One of the most obvious signs is that they might scratch or itch. Flea bites can also cause your dog to become nervous and agitated.
Dogs will scratch for a variety of reasons, but when they're scratching constantly, it suggests they might have a tick or flea problem. You should also look out for red pimples or bumps on your dog's skin. These will be much easier to see on places like your dog's underside.
You could also try looking for ticks and fleas. Some of these are actually easy enough to spot with the naked eye.
White Towel Test
Try doing what's known as a white towel test.
Have your dog stand on a white towel and give them a brush.
If your dog has fleas or ticks, you should be able to see black droppings clearly on the white towel. T
he flea dirt should have the appearance of tiny grains of sand and will turn red when water is applied.