Do you want to make sure your cat or dog is properly hydrated throughout the day? Dogs and cats tend to be more attracted to running water versus stagnant water. Even better, if your pets are drinking more water, they'll be more likely to avoid dehydration. The best way to make sure this happens is by getting them one of the pest pet water fountains.
We have 5 excellent options for your cats and dogs here. Read on for our picks and a guide on how to choose the right one.
The Best Pet Water Fountains
We chose the best pet water fountains based on their features, ease of use, aesthetic, and versatility. Make sure to check the size of each fountain before you make a purchase so that you can ensure your pet will be the most comfortable.
1. Catit Flower Fountain
This is the best cat fountain you can purchase because of its design, affordability, and how easy it is to clean. The white and green color scheme with the plastic daisy on top can go with a variety of decor styles. Even better, its large reservoir is able to hold 100 ounces of water before you need to refill it.
The water is sure to stay fresh for your cat or small dog because it comes with a triple-action filter that removes debris, magnesium, and calcium. The top part where your pet drinks doesn't come with a bowl for the water to settle. This eliminates any dirt or debris, as your pet will always drink from a fresh and bubbling stream from the flower.
Additional Specs:
9 x 9 x 8.3 inches
2.0 pounds
Plastic material
BPA-free, Lead-free
Tip resistant
2. Pioneer Pet Stainless Steel Dog & Cat Fountain Raindrop Design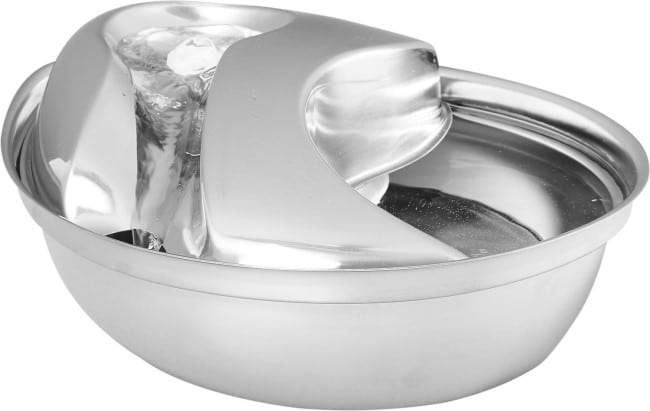 The Pioneer Pet Stainless Steel fountain is for pet owners who are specifically looking for a stainless steel design for their dogs and cats. Stainless steel can be better for pets because it doesn't prompt an immunologic reaction that can lead to acne or pigment changes.
It's dishwasher-safe to reduce your cleaning times and also comes in a 60-ounce or 96-ounce design. The design is modern and stylish and allows water to bubble up from the top and run down into a large bowl where the water continues to circulate.
We like the fact that both small and large breeds of dogs can benefit from this fountain. Last but not least, it's one of the quieter fountains available.
Additional Specs:
12.5 x 10.5 x 5 inches
2.75 pounds
Tip-resistant
Lead-free
3. Drinkwell 360 Stainless Steel Pet Fountain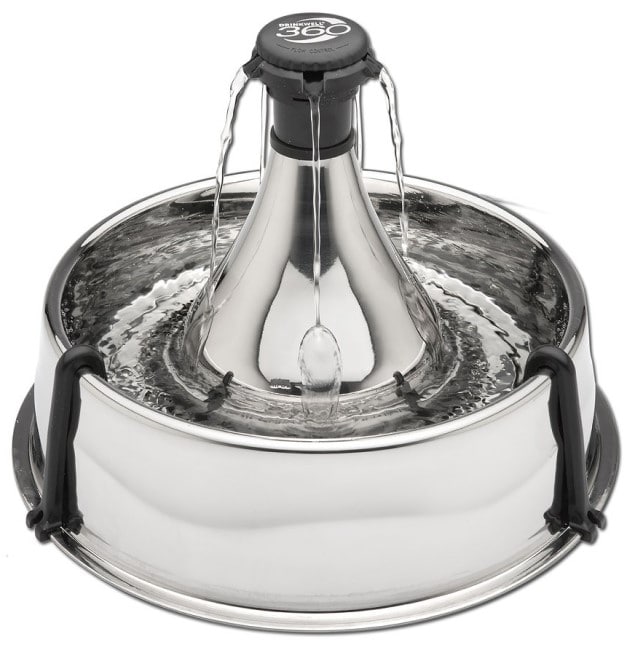 If you're looking for a stainless steel pet fountain that can service multiple cats and dogs under 60 pounds, then this is a great choice for you. The round design ensures that multiple pets can use the fountain at the same time without bumping into each other.
We like the fact that the fountain features five separate spouts so that each pet can drink from fresh running water without fighting over the stream. It also has rubber feet so that even on slippery tile or wood floors, your pets have less of a chance of jostling the fountain and spilling water.
It also features a huge 128-ounce capacity so that you don't have to refill the fountain multiple times throughout the week. You can also adjust the cap to change the flow of water to your pets' liking.
Additional Specs:
Comes with carbon and foam filter
14 x 14 x 9 inches
4.28 pounds
Stainless steel material
Dishwasher-safe
Submersible pump for quiet operation
4. PETKIT Eversweet 2 Drinking Fountain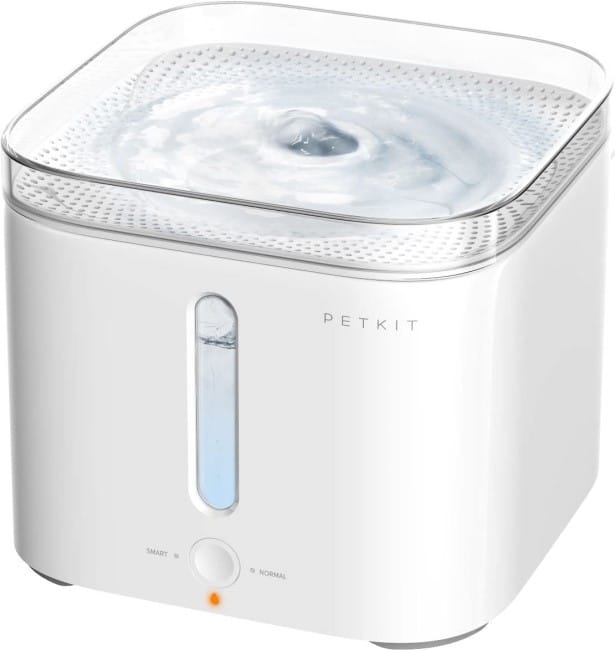 The PETKIT is your best pet water fountain choice if you're looking for a 360-degree fountain that also includes smart technology to make its long-term operation even easier. With a 68-ounce water capacity, this fountain is sized for cats and small dogs.
It includes a window to view the water level easily as well as an LED light that turns on whenever you need to add more water. It will also turn on an LED light when it's time to replace the filter.
The best part about this smart water fountain is that you can set it on "smart" mode that creates an intermittent water flow during the night while your pets are sleeping. You can also set it on "normal" mode if you want it to run regularly throughout the day.
Another notable feature of this drinking fountain is the high-quality water filter. It contains layers of cotton, coconut shell activated carbon, and ion exchange resin. These layers give quadruple filtration.
Additional Specs:
7.09 x 7.09 x 6.1 inches
2.31 pounds
Ultra-quiet, below 30 dB pump for a good night's sleep
Anti-burnout
5. Zeus Drinking Dog Water Fountain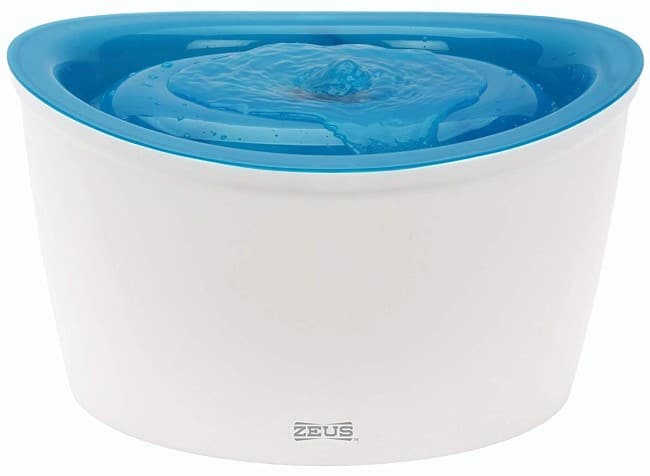 If you have large dogs that drink a lot of water throughout the day or need to be encouraged more, then this may be the best choice for you. With a max capacity of 200 ounces, this is one of the largest fountains we could find. This means that your dogs will enjoy fresh water for longer without the need for you to constantly refill it.
You can be assured that your dogs are drinking the freshest water possible through its triple-action filter. It helps soften tap water, collects debris, and absorbs any odors. Best of all, the large surface area of the fountain adds more oxygen to the water which helps it become more enticing for dogs that are frequently dehydrated.
Although cats and small dogs can use this fountain as well, the elevated design is suitable for large senior dogs that suffer from muscle and joint problems. They'll be more likely to drink more if they're drinking at a comfortable level.
Additional Specs:
BPA-free
9.75 x 12 x 6.75 inches
1.68 pounds
Benefits of the Best Pet Water Fountains
You may be wondering why you should invest the money in a pet water fountain when your pet is doing fine drinking from their regular water bowl. There are a number of benefits that you may not have considered!
1. Seeing the Water Level
You may find that dogs and particularly cats take a long time when it comes to drinking from water bowls. You may notice that they'll stare at it, poke at the water with their paw, or sniff around the bowl itself. This is because cats or dogs can have trouble seeing the water level in the bowl and don't want to get water on their nose.
This may make them hesitant to drink even when they're thirsty, leading to dehydration and other health complications. Water fountains are a great solution to this issue because pets have an easier time seeing where the water starts. Their keen sense of hearing also enables them to locate the water easily.
2. Safe Water
Some cats in particular may think that standing water is unsafe to drink. This is a good belief to have because standing water that isn't changed often enough can be a breeding ground for bacteria. Running water doesn't have this issue and cats that are normally reluctant to drink may feel safer.
The best part is you'll find that pet fountains that are cleaned regularly can be healthier for your pets overall. They often contain filters that remove bacteria as well as closed reservoirs that can't collect dirt or debris.
3. Comfortable
Cats find it uncomfortable when their whiskers regularly touch the sides of their drinking or eating bowls, especially if the bowls are narrow. Cat whiskers are incredibly sensitive. If they're touched or bent too often from deep or narrow bowls, they'll experience whisker stress or whisker fatigue.
Water fountains can be far more comfortable for cats because they won't have to brush their whiskers against the edges of any water bowls. Fountains can also be higher compared to a regular bowl, so both cats and dogs can drink from a more comfortable position.
How to Choose the Best Pet Fountains
When it comes to choosing a water fountain, there are a few features you'll want to pay attention to for its longterm enjoyment. First, make sure that the manufacturer is able to tell you how quiet the motor runs, especially if the fountain will be near a bedroom. You'll also want to consider its height and whether it's designed for dogs or cats.
You'll also want to choose a model that's easy to maintain and clean. Some water fountains come with great features, but you'll find that they come in multiple parts that take a long time to disassemble, clean, and reassemble again. The best water fountains will be easy to maintain and clean with a minimal number of parts.