Have an aging pup? Keeping your dog healthy as they age can be challenging. What you feed them makes a massive difference in their mental and physical health. In this article, we're taking a closer look at the best senior dog food available to help give your pooch the best transition into it's golden age.
It goes without saying that you only want what's best for your furry pal. That includes choosing the best senior dog food, which can help keep them healthy and happy as they age. The keyword here is "senior" since dogs' nutrient needs change as they get older. But there are many other factors to consider, such as breed and their current health.
Which one to choose then? We'll guide you throughout the process, so, keep reading!
The 10 Best Senior Dog Food Options in 2021
So what is the best senior dog food out there? Well a lot of it depends on your dogs physical and mental needs. We have our top 10 picks for you here, and many of these brands make a variety of senior dog food recipes.
After you check out this section, make sure to read through our buyers guide that gives you tips on picking the best dog food for seniors.
1. Purina ONE SmartBlend Vibrant Maturity Adult 7+ Formula Dry Dog Food
Purina lists chicken as the main ingredient of this senior dog food. That's a good choice since this white meat delivers high amounts of protein in an easy-to-digest form.
Other notable ingredients include omega-6 and glucosamine, which support joint health. The formula also boasts enhanced botanical oils, which may help maintain mental sharpness. The mix of real chicken meat and crunchy kibbles makes it highly-digestible. That's a plus for your aging pooch.
2. Hill's Science Diet Senior Dry Dog Food Adult 7+ Active Longevity Small Bites
Best Senior Dry Dog Food
This Hill's Science offer comes with a formula for dogs age seven or older. It's perfect for your small kibble-loving pooch. If your dog rather eat normal size kibble, you can get the regular size version. As for ingredients, L-carnitine is one of the most notable in this senior dog food. It's an amino acid integral for energy and healthy weight. It'll help restore your pet's energy levels, which is important for keeping active.
Omega-6 fatty acids and vitamin E are some of the other star ingredients in this senior dog food. These, together with rest of nutrient-packed ingredients, promote shinier, thicker, and healthier coat. Overall Hill's Science formula is the best dry dog food for senior dogs.
3. Wellness Complete Health Natural Dry Dog Food for Senior Small Breed Dogs
Best Senior Dog Food Small Breeds
If you're looking for the best senior dog food for small breeds, this may be what you need. The kibbles come in a smaller size, making them easier to pick up and eat.
It contains glucosamine and chondroitin, which can help promote healthier hips and joints. Wellness Complete also comes with natural fiber and probiotics, that help improve digestive health. The formula also consists carefully-chosen protein, fats, and carbs to promote healthy weight. All these, your pet can enjoy in the tasty Deboned Turkey and Peas flavor.
4. Wellness Complete Health Natural Dry Senior Dog Food
Best Senior Dog Food Large Breed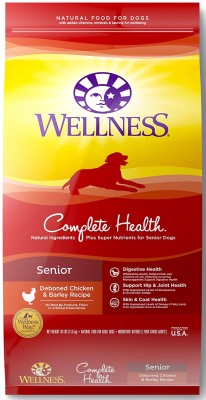 You'll also find Wellness Complete Health senior dog food for medium to large size breeds. The main difference between the two is the kibble size – this one comes in a regular size.
The Deboned Chicken and Barley Recipe is something your pooch is sure to love. Not only for its taste, but also for its whole-body nutritional support. With this dry dog food, you'll find your pet with youthful exuberance once more. All that, plus shinier coat, healthier skin, and less creaking hips and joints.
5. Wellness Complete Health Natural Wet Canned Dog Food, Senior Recipe
Runner Up: Best Wet Dog Food for Senior Dogs
If you have a picky-eater on your hands, you should try this wet canned senior dog food. It offers an all-natural way for your dog to hydrate with the food's increased moisture content. Furthermore, better hydration helps reduce risks of urinary-tract health problems.
You may also want to try mixing a bit of Wellness dry senior dog food with this. Some dogs love the texture of moisture-rich food with some crunch.
6. Diamond Naturals Real Meat Recipe Premium Specialty Senior Dry Dog Food
Runner Up: Best Dry Senior Dog Food
According to Diamond Naturals, their product makes use only of real cage-free chicken. Again, chicken is a great source of protein, which aging dogs require. Better if it's cage-free chicken, since you can rest easy knowing it's pesticide-free.
This senior dog food also has glucosamine and chondroitin for healthier joints. Vitamin-, mineral-, and antioxidant-rich superfood-content also help improve skin and coat.
7. Blue Buffalo Homestyle Recipe Natural Senior Wet Dog Food
Best Dog Food Brand for Senior Dogs
Real chicken meat tops the ingredient list of this senior wet dog food from Blue Buffalo. It also contains brown rice and barley that meets aging dogs' carbohydrate needs. What it doesn't contain is chicken bone or chicken and poultry by-product meals.
The all-natural wet dog food also has added benefits of vitamins and minerals. You can also choose amongst three Homestyle Recipes, including Beef, Chicken, and Lamb.
8. Blue Buffalo Freedom Natural Senior Dry Dog Food
Best Senior Dog Food Grain Free Recipe
Another Blue Buffalo product, this senior dry dog food grain free recipe also makes use of real chicken. The added L-Carnitine aids in keeping your pooch's energy levels and weight down. It also contains potatoes and peas for a complete healthy diet. The formula includes Glucosamine and Chondroitin to help prevent joint and hip problems.
This senior dog food also has Blue Buffalo's "LifeSource Bits", a blend of vitamins, minerals, and antioxidants. According to the manufacturer, this recipe promotes complete health and wellness.
9. AvoDerm Natural Health Solutions for Senior Health, Joints, Weight Control
Best Senior Dog Food for Sensitive Stomach
This AvoDerm product contains ingredients designed for the needs of older small breeds. There's the Glucosamine and Chondroitin for joint health. There's also DHA for the eyes and improved brain function.
According to AvoDerm, its product uses California avocados for healthier skin and coat. Avocados also have immune system-improving benefits, so that's another plus. The grain free formula combined with the whole ingredients makes this the best senior dog food for sensitive stomach pups!
10. NUTRO ULTRA Senior Wet Dog Food
Best Senior Wet Dog Food
Chicken, lamb, turkey, and salmon are only some of the ingredients in this senior wet dog food. That's already a lot of good-quality protein, but it contains 14 other superfoods. No wonder then that it's one of the best-rated senior dog foods out there. We also consider it the best canned dog food for senior dogs.
The formula, according to the manufacturer, promotes improved skin and coat health. It also helps strengthen your furry pal's immune system. Plus, it promotes easier, healthier digestion. Speaking of digestion, why mess up your hard work with the best senior dog food by feeding your puppy bad-quality treats? Get our recommendations for great treats here.
Buyers Guide: Finding the Best Senior Dog Food for Your Dog
Welcome to our buyers guide section! Read through our tips and things to look for- but make sure to consult your veterinarian if your dog has specific medical needs.
Breed Matters
There are 340 dog breeds recognized by the Federation Cynologique Internationale (FCI). As for the American Kennel Club-recognized ones, there are 167. That's a lot, no? But the more important question here is, why does breed make a difference?
Well, that's because the specific breed indicates the size of the pooch. Their size then influences how soon they reach "old" age.
Size Matters
Take the Labrador, Golden Retriever, and German Shepherd for instance. These dogs fall under the "large size" breeds. In general, they reach senior years the fastest, which is between six and eight years.
The exact opposite happens to toy breed and small dogs. They hit their golden years only when they turn around 10 to 12 years. Medium size dogs, or those weighing between 20 to 50 pounds, become seniors at the age of eight to 10.
With Age Comes Special Nutritional Needs
More than one in every three Americans are obese. The same goes true for pets in the country. That's right, as many as one-third of dogs and cats suffer from obesity. The thing is, it's not always about the amount of food they eat that make them obese. Their metabolic rate slows down as they age, thus raising their risks for obesity.
Nutrients in Puppy Food vs. The Best Dog Food for Senior Dogs
Keep in mind that the formula of puppy dog foods differs from senior dog foods. That's because puppies need twice the energy-supplying nutrients that adult dogs need. As such, puppy food manufacturers contain more energy-giving ingredients.
When aging dogs eat such food, they kind of overdose on calories. Their slowed metabolic rate can no longer process that amount. That then results in these calories turning into stored – and most likely unused – fat.
This being said, low-calorie content is one of the features that make for the best dog food for senior dogs. That, and higher-fiber content for improved gastrointestinal health.
Pro Tip: Exercise is key to keeping your furry pal healthy. So, consider getting that dog harness to take walks or jogs together!
Your Canine Pal's Existing Health Conditions
Not all dogs may become obese, but that doesn't mean they won't lose weight either. This is another consideration when choosing the best food for senior dogs. Dogs are so much like humans that sometimes, they become picky-eaters with age. Some also don't eat as much of the foods they used to love. Whichever the case, the result is muscle mass loss.
Watch the Weight
If your senior pooch has slimmed down so much, it's best to get foods high in protein and fat. Grain-free dog treats are also good for them to snack on since these are rich in protein and easier to digest. But before you start feeding your furry family member puppy food, talk to a vet first. That way, you can get professional advice on the best formula for your skinny picky-eater.
Medical Problems
There's also the matter of medical problems, such as diabetes and heart ailments. In cases like this, it's best you seek dietary advice from a veterinary. These dogs often need special dietary formulations.
For diabetic dogs, the goal is to make the body absorb food in a slower manner. This slowed absorption can keep your pooch's blood sugar from skyrocketing. Such foods often have low fat, high fiber content.
Dogs suffering from heart disease may have to eat lower-calorie foods. Formulations that have lower sodium content will also help with their condition.