There's nothing a rabbit owner loves more than seeing their rabbit flop, jump, and run around. But at the end of the day, seeing your rabbit comfortable in the best rabbit hutch outdoors is the most important thing you can give them.
Rabbit owners need to know that their rabbits are happy in their cages and hutches. Their comfort and happiness make all the difference in their health and quality of life. Owners also know that a small cage isn't suitable for a full grown medium to large-sized rabbit. They need space to hop around and spread out as well.
While there are a variety of rabbit home options available, the rabbit hutch is always a solid choice. They're spacious, sturdy, and can last for years. But, not all rabbit hutches are created equal. The right one for you is not only dependable but also looks great.
Want to know how to choose the best outdoor rabbit hutch? Read on to find out our top picks.
10 Best Rabbit Hutches in 2021
The following is a list of the hutches that can be purchased on Chewy.com or Amazon.com. We reviewed these products and ranked them based on ability to meet your rabbit's needs, ease of cleaning, and stability.
This hutch is our number one pick because it's accessible, has an outdoor run for exercise, and amazing shelter space. The shelter space is where this product shines the most. It has multiple ways to reach inside, a pullout tray for cleaning, and a part wire and part solid enclosure.
The outdoor run is also a remarkable feature that allows your rabbit to get quality exercise. This hutch is perfect for dwarf rabbits and smaller rabbits. It can also be used for guinea pigs.
This hutch comes in small and medium sizes. The best part about this hutch is that it's not only functional but decorative! It also comes in three different colors which can allow you to match it with your home.
It has an outdoor run, which is a wonderful feature, but it doesn't provide enough space for your rabbit to hop more than three times depending on their size. It is, however, easy to clean and has a two-part shelter which your rabbit will be happy to hide in.
This rabbit hutch is adorable and functional! Reminiscent of an English Tudor style home, this rabbit hutch will provide your rabbit with tons of sheltered space, an outdoor run, and even "attic space" to store food and toys.
It also has two removable trays which make cleaning easy and stress-free. The size of this makes it a contender for the best rabbit hutch for 2 rabbits.
This hutch is made out of sturdy wood with a glazed pine coating, so it's meant to last for years to come. This hutch features an outdoor run, a non-slip ramp for easy access to the second floor, and a shelter that will protect your precious rabbit from the elements.
This hutch is also easy to clean and extremely accessible with multiple entryways to reach your rabbit.
This elevated hutch will keep your rabbit comfortable and it looks great in your backyard. This rabbit hutch comes in red and gray and the style is modern with a twist of farmhouse style appeal.
This hutch is best for small rabbits. It has an area for your rabbit to hop around and a shelter for them to relax in. The sheltered area is taller as well which allows your rabbit to stand on his hind legs and stretch out.
This hutch is great for a single medium to large rabbit or two small rabbits. It's made out of solid wood and is low-maintenance.
It's an elevated hutch that features a play space as well as a shelter space. It also has two doors and a metal side latch which provide safety and accessibility for cleaning.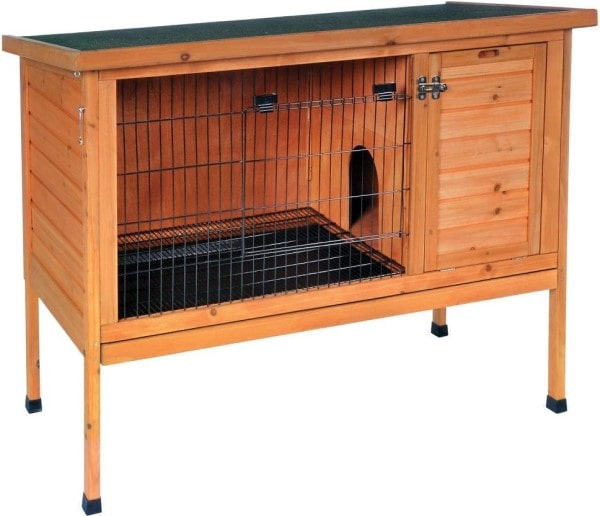 The Prevue Pet Products Rabbit Hutch comes in small and large. Its simple design makes it easy to clean and easy for your rabbit to use.
This hutch also features a fold-out ramp which makes it easy for your rabbit to come and go as he pleases. This ramp feature is great for rabbits who prefer to not be picked up. Since it's an elevated hutch, this ramp will give you and your rabbit peace of mind that he can safely exit and return without needing to be picked up in any way.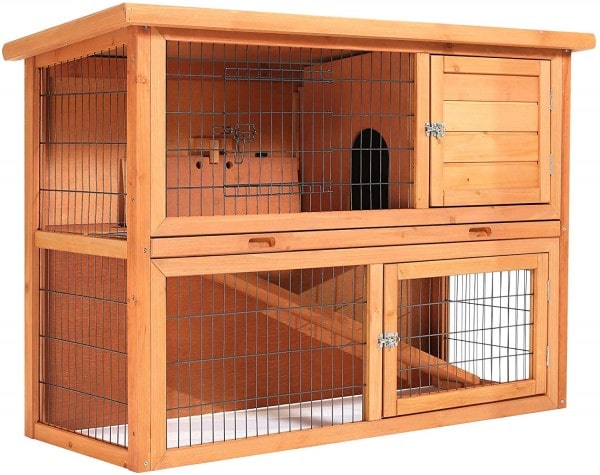 This hutch is made out of solid fir wood which helps to keep your rabbit safe from predators. It also features a large pull-out plastic tray on the second floor which makes it easy to clean.
Other access points also make it easier for you to reach your rabbit and clean other areas of their habitat as needed. This product features a non-slip ramp as well as separate living and sleeping spaces.
This rabbit hutch is truly a quaint and beautiful place for your rabbit to live! Not only does it have an outdoor run, ramp, and sleeping quarters, but also window boxes you can put a live plant in. It's teal and white exterior will also look adorable in your backyard.
This hutch is best for either one medium to large rabbit or for two small rabbits. Its two-story design gives them space to run as well as space to relax and hide.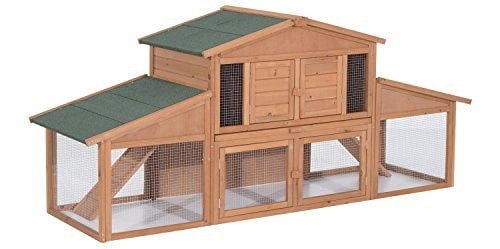 Any rabbit is sure to fall in love with this hutch! Especially, larger rabbits who need more room to spread out and hop around.
This hutch also comes with galvanized wire to ensure your rabbit is safe, sound, and contained. It also includes a sheltered space for your rabbit to relax in. Great rabbit hutch for multiple rabbits.
It also has multiple ramps leading to the sheltered area and an easy to clean pull out tray.
3 Things to Consider When Buying a Rabbit Hutch
Rabbits are a joy to own, but it takes experience and knowledge to know exactly how to keep them healthy and happy. That's why choosing the right habitat for your rabbit is vital to their health. Explore the following tips for choosing the best rabbit hutch and then check out our top picks.
Your rabbit will be most happy in a hutch that offers them space and protection. Explore the following tips for selecting the best rabbit hutch design for your rabbit.
Rabbit Health Needs
Rabbits are unlike any other pet. They vary in size and they have needs specific to their breeds. Long-haired dwarf rabbits, for example, have different needs than a Flemish Giant.
To start, get familiar with your rabbit's breed and size. What are their grooming needs? What health problems are they prone to?
Rabbits can be very fragile. They can scare easily, get sick, or hurt themselves. Knowing the potential health problems of your rabbit's breed will help you to choose the best hutch for them.
A rabbit's enclosure and the environment is very important to their well-being. The hutch must be easy to clean, comfortable, and provide safety.
Life Outdoors
These days rabbits can be indoors and outdoors, but a hutch is definitely the best option for outdoor rabbits. Hutches should provide your rabbit with a covered area to hide in and protect themselves. They should also give your rabbit space to hop around and exercise.
A hutch also keeps wild animals away and it protects them from the weather. It will also protect them from your dog or indoor/outdoor cat. So, when you select a rabbit hutch, make sure it provides adequate shelter to your loving pet.
If you live in cooler climates, then provide your rabbit with a blanket to keep warm.
For warmer climates, provide them with a frozen bottle of water to cool down.
Extreme climates are not recommended for outdoor rabbits. If you live in an extreme climate, then it's best to keep your rabbit indoors or in a temperature controlled space.
Flooring and Hutch Features
The flooring and the ability to clean the hutch are also paramount to their overall health. Rabbits need to live in a clean space, but they also need to be protected from injury.
While wire flooring with a pull out pan makes the hutch easier to clean, the wire can also injure your rabbit's feet. It's also uncomfortable for them to hop around on which could reduce the amount of exercise they get.
Solid flooring is harder to clean, but you can also set up a litter box in the hutch which will give them a designated space to eat and use the bathroom.
To remedy the cons of these types of flooring, make sure to invest in some great bedding.
Training a rabbit to use a litter box is fairly easy and your rabbit will enjoy a clean, dedicated space to eat and relieve themselves. In fact, rabbits like to do both at once, so a litter box is a perfect way to keep both you and your rabbit happy.
Related Reading